Former UN official urges Cameron not to bomb Syria ahead of protests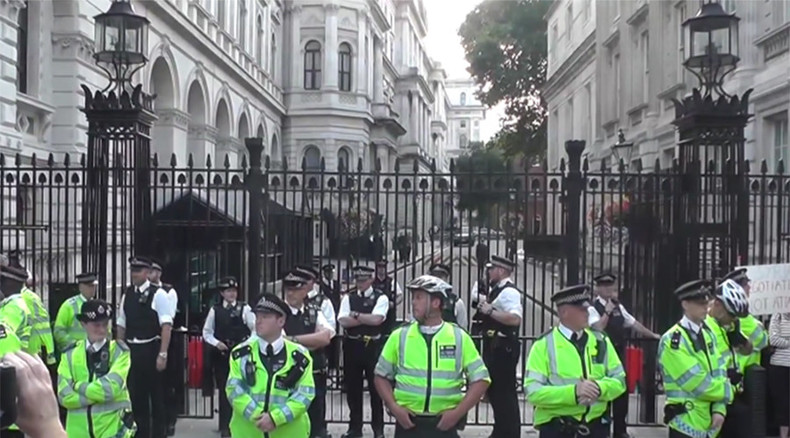 Former UN Assistant Secretary-General Hans von Sponeck has signed a letter along with 30 other VIPs begging Prime Minister David Cameron not to bomb Syria. It will be delivered to Downing Street on Saturday as thousands protest at Whitehall.
Thirty celebrities, politicians and writers have signed the letter pleading with Cameron to reverse his plans to extend airstrikes against Islamic State (IS, formerly ISIS/ISIL) militants from Iraq into Syria.
Signatories include filmmaker Ken Loach and comedian Frankie Boyle.
The letter will be delivered to Downing Street at Saturday's protest, according to the Stop the War coalition.
"The UK has been bombing countries for a decade and a half, at the cost of millions of lives. Doing the same thing over and over again and expecting different results meets Albert Einstein's definition of madness," the group said.
"We are calling on all our groups to organize protests in their towns and cities on the same day. We need to resist this brutalizing and dehumanizing spiral of violence."
On Thursday, the PM insisted launching UK airstrikes against IS militants in Syria will "make us safer."
He warned Britain will "never be safe" until IS is defeated.
However, Cameron denied claims it would make the UK a bigger target for terror attacks.
"The threats to our interests and to our people are such that we cannot afford to stand aside and not to act," the PM told the House of Commons.
"Throughout Britain's history we have been called on time and again to make the hardest of decisions in defense of our citizens and our country. Today one of the greatest threats we face to our security is the threat from ISIL," he added.
Stop the War vice-chair Chris Nineham dismissed the PM's comments and said he had "failed utterly" to outline a coherent strategy.
"We always get this argument when we are asked to back another war, that our weapons don't kill civilians, that they are precision-guided, that they cause minimal 'collateral damage'. And yet all the facts argue the opposite: one impact of extra bombing raids will be more civilians killed. Why on earth would Britain want to increase the death rate?" he told the Guardian.
Nineham condemned Cameron's plans and said bombing Syria would "entrench the bitterness towards the west."
"The kind of action Cameron is outlining is going to increase the level of suffering and destruction in Syria, it's liable to entrench the civil war [and] to strengthen rather than degrade the position of ISIS," he added.