5 arrested after 'Plane Stupid' protest blocks Heathrow airport tunnel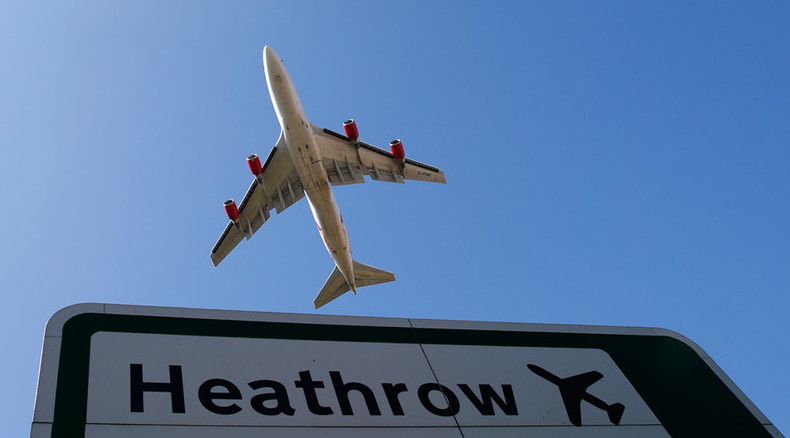 Five activists have been arrested after blocking a road tunnel at London's Heathrow airport by locking themselves to a parked van.
Campaigners from environmental group 'Plane Stupid', which is campaigning against the airport's expansion, blocked the entrance to Heathrow's main tunnel leading to terminals 1, 2 and 3 at around 7am on Thursday.
Three members of the group brought traffic to a standstill when they parked a vehicle across both lanes and locked themselves to it.
A banner was taped on the van quoting Prime Minister David Cameron's election promise: "No ifs, no buts, no third runway."
The protest comes after Heathrow airport revealed plans for a third, two-mile-long runway in a major new expansion.
Plane Stupid said the protest was staged to draw attention to the environmental impact a third runway would have.
"Airport expansion would wreck the legally binding Climate Change Act, risking wiping out 55 percent of species this century and displacing 75 million more people from their homes by 2035," the group said on its website.
"The government needs to choose: build new runways or stop climate chaos. It's that simple," it added.
A Metropolitan Police spokesperson said: "We were called at 07:42hrs on Thursday, 26 November. Five arrests have been made."
The force said activists and their vehicles have been removed from the tunnel. The road was reopened by 11.30am.
However, there is still severe congestion near Heathrow and passengers have been advised to allow extra time for their journey.
The airport insists a third runway would benefit local communities.
A Heathrow spokeswoman said: "Expansion will keep the capital and the whole of the UK at the heart of the global economy, meet environmental targets and balance the needs of local communities."
In October, Heathrow released new images of the proposed £19 billion ($US29 billion) third runway. If built, up to 740,000 flights would leave the airport every year.
In 2009, Cameron said a third runway at the west London airport is "not going to happen" due to concerns about the impact of noise and pollution across London.
He has promised a decision on the proposal by the end of the year.