Wheely high: Virtual reality suit simulates effect of narcotics on drivers (VIDEO)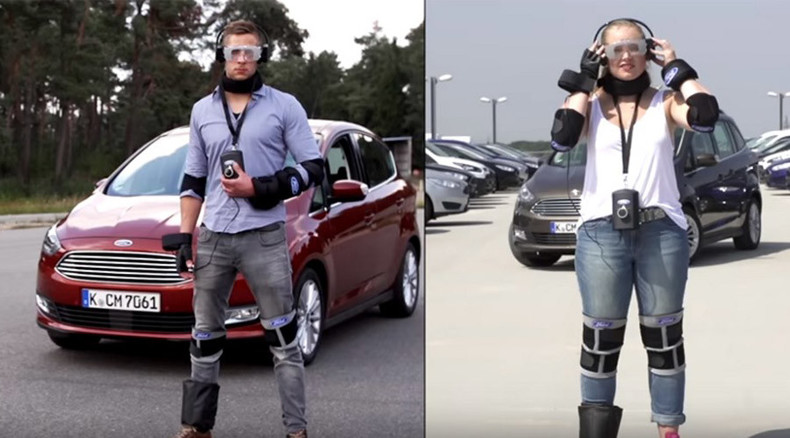 A new virtual reality suit offers a sobering look at driving while high. Designed by German scientists for carmaker Ford, the Drug Driving Suit simulates the effect of taking cocaine, heroin, ecstasy, cannabis and hallucinogens while behind the wheel.
After being tested by young people in London, Ford sent the simulation suit to driving schools in 11 European countries.
Video of the device reveals how weighted ankle and arm pads mimic labored movement, rave goggles with flashing lights create sparkly colors and distorted views, and a random noise-generating headphones and trembling bracelets contribute to paranoia.
In the clip, human guinea pigs are shown struggling to perform even the simplest of maneuvers like touching their nose or catching a ball.
"We know that some drugs can cause trembling hands, so we incorporated into the suit a device that creates just a tremor," said Gundolf Meyer-Hentschel, head of the institute that created the VR outfit.
"Drug users sometimes see flashing lights in their peripheral field, an effect recreated by our goggles, while imaginary sounds are generated by the headphones," he said.
UK authorities estimate there are more than 200 drug-related road deaths per year and 400 drug driving arrests per month.
Ford hopes the VR suit will raise drug awareness and cut road deaths.