Bomb scare on Baker Street: Controlled explosion after police evacuate London tube station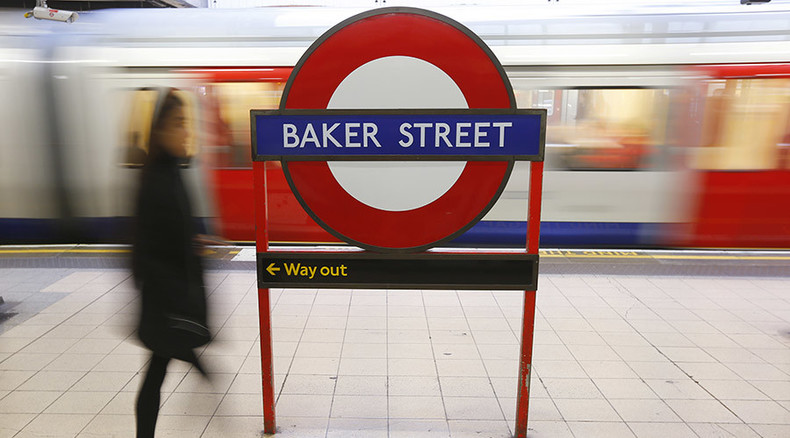 A blast in the vicinity of London's Baker Street underground station that scared commuters and residents on Thursday has been confirmed to have been a controlled police explosion. The station was evacuated during rush hour due to an abandoned vehicle.
The evacuation on Thursday evening was prompted by a suspicious vehicle left near the station. Police asked commuters to evacuate and cordoned off the area.
The station has since reopened. The Metropolitan Police Service has confirmed the explosion was controlled, but did not elaborate on the object destroyed.

"There was an abandoned vehicle in Baker Street. There was a controlled explosion. This is not a criminal investigation," a spokesman for the Metropolitan Police Service told AFP.
Westminster Metropolitan Police Service reported later on Twitter that the abandoned vehicle "has been deemed non-suspicious."
The London Underground told reporters that the station had been closed on the advice of police.

"The station has been closed since just after nine o'clock [UK time] this evening due to a security alert outside the station," a spokeswoman said, adding that the trains continued to pass the station without stopping following the evacuation.
Bomb alert level – post-Paris
The heightened vigilance in the UK, which has been encouraged by police, comes after Friday's terror attacks in France that claimed more than 130 lives and left hundreds of others seriously injured. Meanwhile, the Russian Security Service confirmed on Tuesday that Russia's MetroJet passenger plane crash in Sinai, which killed 224, was caused by an explosive device.
Islamic State (IS, formerly ISIS / ISIL) has claimed responsibility for both attacks. One of the latest claims posted on the terrorist group's online magazine also said that a British or other Western plane could have been bombed instead, but the target was allegedly changed at the very last moment due to the commencement of Russia's anti-terror operation in Syria.
READ MORE: 'Paris terrorism: Mainstream media's new hit song'
Numerous flights across the world have recently been evacuated, searched, and at times forced into emergency landings due to false bomb threats in the wake of the terror attacks. The latest such incident took place in Manchester on Thursday, when Morocco-bound easyJet flight EZY1893 had to be evacuated after a passenger claimed to have a bomb in his luggage.

Greater Manchester Police said they have arrested two male suspects, aged 45 and 46, for pulling off the bomb hoax, but all of the passengers' belongings had to be rescreened.
READ MORE: Bomb threats force 2 Air France flights from US to Paris into emergency landings
Earlier on Tuesday night, two Air France flights from the US to Paris with a total of 759 passengers and crew on board had to be diverted in mid-flight and evacuated due to anonymous bomb threats.