Bomb threats force 2 Air France flights from US to Paris into emergency landings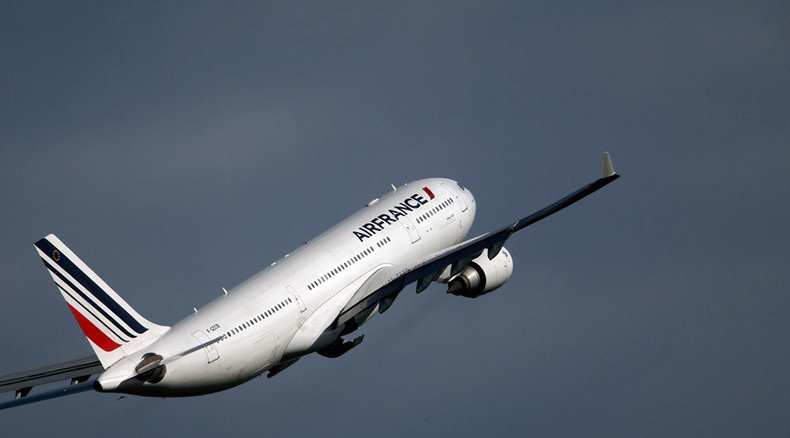 Two Air France planes flying to Paris from Washington and Los Angeles were forced to divert to Halifax and Salt Lake City due to bomb threats, the airline has confirmed. All passengers have been evacuated.
Air France confirmed in a statement that both flights AF055 and AF065 were diverted because they "were subjects of anonymous threats received after their respective take-offs."
"As a precautionary measure and to conduct all necessary security checks, Air France, applying the safety regulations in force, decided to request the landings of both aircraft," the statement added. "Local authorities are carrying out complete inspections of the aircraft, the passengers and their luggage. An investigation will be led by the authorities to identify the source of the telephone call."
Air France flight AF55 heading to Paris from Washington, DC was diverted to Halifax. The plane had 262 passengers and crew onboard. Nova Scotia RCMP said all the passengers were successfully evacuated and officers were going through the plane with police dogs trained to detect explosives.
All passengers and crew members were moved to "a secure area in the airport terminal," a spokesperson for Halifax Stanfield International Airport, Peter Spurway, told CBC News.
Around the same time, Air France flight AF65 travelling from Los Angeles to Paris was diverted to Salt Lake City due to a bomb threat. Flight 65 landed in Salt Lake City around 7:30 pm local time with 497 passengers and crew onboard.
All were evacuated from the plane and transported to customs, according to KSL.com.

Airport officials confirmed that a bomb threat had been made concerning flight AF65, stating that they received a warning after the plane had departed from Los Angeles, KSL.com reported.

It is unclear who is responsible for the bomb threat.
The FBI later said that no evidence has been found that "would lend credibility" to threats against the Air France flight from Los Angeles to Paris.
"As you may have heard an aircraft was diverted and safely landed at the Salt Lake International Airport this evening. The FBI and its law enforcement partners take all threats very seriously and respond accordingly," Todd Palmer, a special agent with the FBI, said in a statement.
There have also been unconfirmed reports that flight AF65 from Los Angeles was diverted after a passenger tried to enter the cockpit, according to MSNBC.
You can share this story on social media: