Will British MPs vote to bomb Syria? Cameron, Corbyn diverge on Paris attack response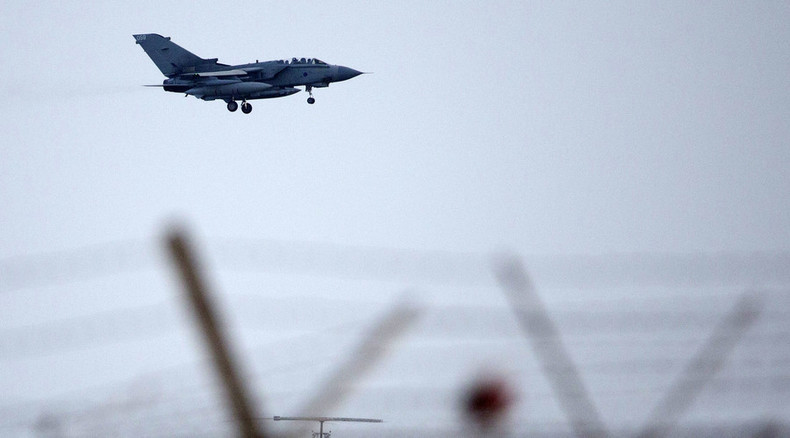 Prime Minister David Cameron says he wants Britain to take part in airstrikes against Islamic State in Syria, but still needs to convince MPs to back an intervention. Labour leader Jeremy Corbyn meanwhile has warned bombing will not defeat the jihadists.
Cameron said he won't hold a vote in Parliament on extending UK airstrikes from Iraq into Syria until he can be sure MPs will back it.
The PM told BBC radio if a vote on airstrikes against Islamic State (IS, formerly ISIS/ISIL) is defeated in the house it could damage Britain's reputation on the global stage.
France has launched a series of "massive" strikes against IS in its stronghold of Raqqa in northern Syria following Friday's terror attacks in Paris.
The UK is currently involved in bombing raids against IS targets in Iraq, but Parliament rejected a vote to extend airstrikes to Syria in 2013.
Speaking to the BBC, Cameron said he wants Britain to join a bombing campaign in Syria.
"I have always said I think that it is sensible that we should. ISIL don't recognize a border between Iraq and Syria and neither should we, but I need to build the argument, I need to take it to Parliament, I need to convince more people," Cameron said.
"We won't hold that vote unless we can see that parliament would endorse action because to fail on this would be damaging, it is not a question of damaging the government it is a question of not damaging our country and its reputation in the world."
The PM said he would take immediate direct action if British interests were at stake, citing RAF drone attacks launched in August against British citizens fighting for IS.
However Conservative MP Crispin Blunt has expressed doubts about military action in Syria without a wider international plan.
He told BBC Pienaar's Politics the international community must redouble its efforts to reach a consensus on Syria and progress to a transitional arrangement had been made at talks in Vienna.
Jeremy Corbyn has warned airstrikes against IS will cause "more mayhem and more loss" in the region.
The Labour leader said the only way to deal with the threat posed by IS is to achieve a political settlement to Syria's ongoing civil war.
"Does the bombing change it? Probably not. The idea has to be surely a political settlement in Syria," he told ITV1's Lorraine program.
"We have to be careful. One war doesn't necessarily bring about peace - it often can bring yet more conflicts, more mayhem and more loss.
"I am not saying 'sit round the table with ISIS,' I am saying bring about a political settlement in Syria which will help then to bring some kind of unity government – technical government – in Syria," he said.
Corbyn said it is important to ask "very big questions" about how IS has become so powerful in the region.
"Who is funding ISIS? Who is arming ISIS? Who is providing safe havens for ISIS? You have to ask questions about the arms that everyone has sold in the region, the role of Saudi Arabia in this. I think there are some very big questions," he said.
Corbyn's comments appear to contradict remarks by Labour's Shadow Justice Secretary Lord Falconer on Sunday indicating Labour could back military action against IS in Syria without a UN resolution.
Labour's current policy, established at party conference, is to only support extending airstrikes into Syria with a UN mandate.
Lord Falconer suggested the party could ease this position, as Russia has so far blocked moves for a UN resolution on military action in Syria.
"ISIS can only be defeated by the international community as a whole, if possible through a UN sponsored process, but if not that, then nations come together," he told the BBC's Andrew Marr Show.
"I think NATO will be a part of it. It is much too early to say whether it is appropriate or possible to evoke article five, but NATO will be part of the group of nations that have got to come together to look at it."
Article Five states that an attack on one NATO member is an attack on all.
Falconer made clear any move to intervene in Syria must come with a strategy to deal with the civil war.
"You need a plan, and that plan has got to deal with the Syrian issue. I'm not urging troops on the ground, but ultimately ISIS have to be defeated. It can't just be from the air."