7 UK terror attacks prevented in 6 months – Cameron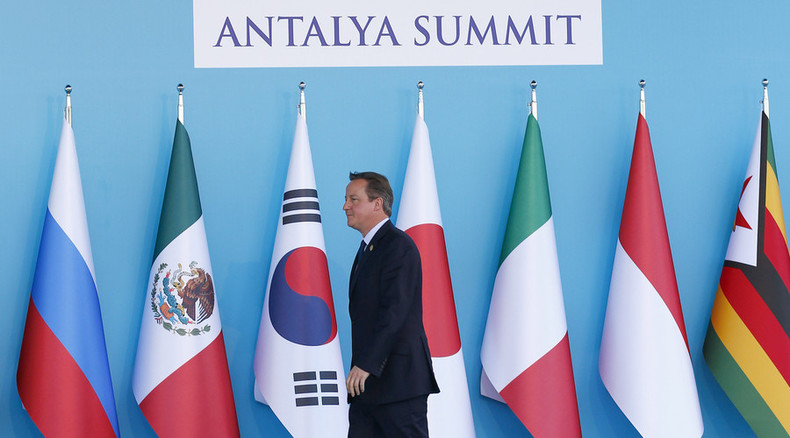 Seven terror attacks in the UK have been foiled by security agencies in the past six months alone, Prime Minister David Cameron said on Monday as he warned a Paris-style attack "could happen here."
His revelation comes ahead of a meeting with Russian President Vladimir Putin at the G20 summit in Turkey, where he and other Western leaders will advocate greater cooperation in battling Islamic State (IS, formerly ISIS/ISIL), following attacks in Paris, Beirut and Egypt.
The suicide bombings and mass shootings in Paris on Friday left 132 dead and more than 300 injured.
Speaking to the BBC on Monday morning, Cameron said he hoped his dialogue with Putin would be "positive."
He said the attacks in Paris were "the sort of thing we warned about" when planning security measures, but added that such events meant "you have to go right back to the drawing board" to establish what further security steps need to be taken.
Cameron said Britain stands in "total solidarity" with France and will do "everything we can" to defeat IS, suggesting he will use the weekend's events to gather more support extending UK airstrikes from Iraq into Syria.
He also hinted that he wants to accelerate the Investigatory Powers Bill into law, which will give security agencies greater spying powers.
"We should look at the timetable," he said.
"We have been aware of these cells operating in Syria that are radicalizing people in our own countries, potentially sending people back to carry out attacks.
"Our security and intelligence services have stopped something like seven attacks in the last six months, albeit attacks planned on a smaller scale," he said.
Asked whether the general public should feel safe, Cameron said resuming usual behavior is essential.
"Our freedom depends on showing resolve and carrying on with our way of life, which is exactly what we ought to do."
London Mayor Boris Johnson also warned a Paris-style terror attack on London "cannot be ruled out." He backed Cameron's comments and urged MPs to consider their stance on military action in Syria.
In the wake of the bloody attack, it had emerged that Special Forces will be deployed to shoot gunmen if they attempt to stage a similar siege anywhere in Britain, the Times reports.
The reviewed approach to dealing with gunmen comes after the Bataclan concert hall siege during the Paris attacks. Some 89 people were killed at that venue.
A Whitehall source told the paper officers would no longer seek to negotiate with gunmen, instead seeking "swift action to neutralize terrorists, rather than to cordon and negotiate."
LISTEN MORE: