Britain & India sign £9bn trade deals despite human rights protests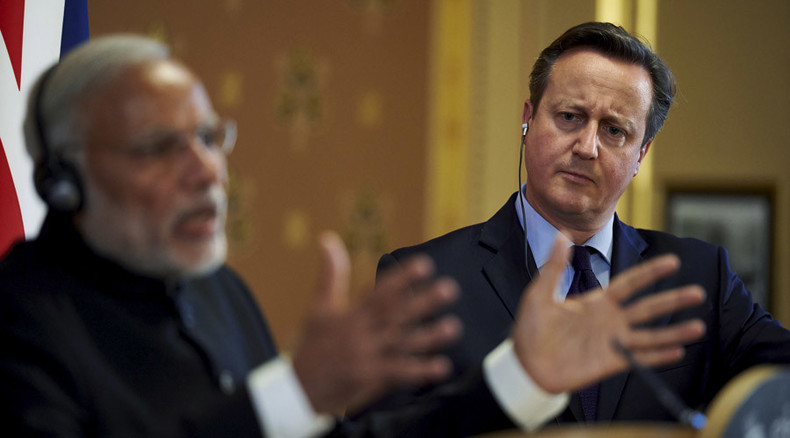 Prime Minister David Cameron and his Indian counterpart Narendra Modi announced £9 billion worth of commercial deals on Thursday on day one of the Indian PM's three-day UK visit. The deals come despite anti-Modi protests by British Indians.
Modi was offered a warm welcome by Cameron, who has spent years courting the former British colony to build closer business and diplomatic ties. Until now, however, India has prioritized relationships with other nations over Britain.
The British government listed more than 20 collaborations and deals on Thursday, including a £1.3-billion investment by mobile phone company Vodafone.
Britain and India also secured a deal to promote clean energy: £3.2 billion of commercial agreements, joint research programs and plans to share scientific, technical and financial expertise.
Before the visit, Modi also expressed an interested in buying 20 more BAE Systems-made Hawk trainer aircraft.
In a press conference given on Thursday Cameron expressed his support for Modi, and his commitment to work with India to provide improved infrastructure. Modi also hinted he wants Britain to remain in the EU, saying it was India's gateway to Europe.
"We want to become your number one partner for supporting the finance needed for this ambitious plan, making London the world's center for offshore rupee trading," Cameron said.
"During this visit, British and Indian companies are announcing new collaborations, together worth more than £9 billion pounds," he added.
On Friday morning, Cameron also announced an "India Year of Culture" celebrating the historic ties between the two nations.
However, journalists at the conference on Thursday pressed Cameron over human rights issues in India, which have cast a shadow over the leader's visit. Asked whether he was concerned at Modi's handling of civil liberties he said: "He comes with an enormous mandate from the people of India who made him prime minister with a record and historic majority.
"As for what happened in the past, there were legal proceedings, there were also representations from the British government at the time. We are now discussing the future partnership between Britain and India. Both of us are backed by our countries for this parliament to work together and strengthen the partnership that we have," he added.
Hundreds of protesters from around the UK gathered outside Downing Street on Thursday afternoon, to demonstrate against the leader's visit. They aimed to highlight what they see as religious persecution against minorities perpetrated by Modi's policies.
They held placards and signs saying "Modi Not Welcome." Some posters even display pictures of Modi and Hitler, suggesting the Indian leader's policies promote ethnic cleansing.
Jas Singh, from Sikh rights group Dal Khalsa UK, told RT the protest displayed a united front formed of minority religions against "the politics of Hindu fascism."
"All the minorities here have put on a united front," he said. They are protesting against the "politics of Hindu fascism" also known as "Hindutva ideology."
He said the demonstration intends to "highlight the atrocities" visited on minority groups "due to this ideology." Singh added that "we see the ideology as Nazism."
"Modi is a new Hitler rising in the east."
Another protest will be held on Friday afternoon at Wembley Stadium, where Modi is due to give a speech. Up to 8,000 demonstrators are expected to attend.