Boris Johnson cuts short Palestine visit after Israel boycott criticism sparks outrage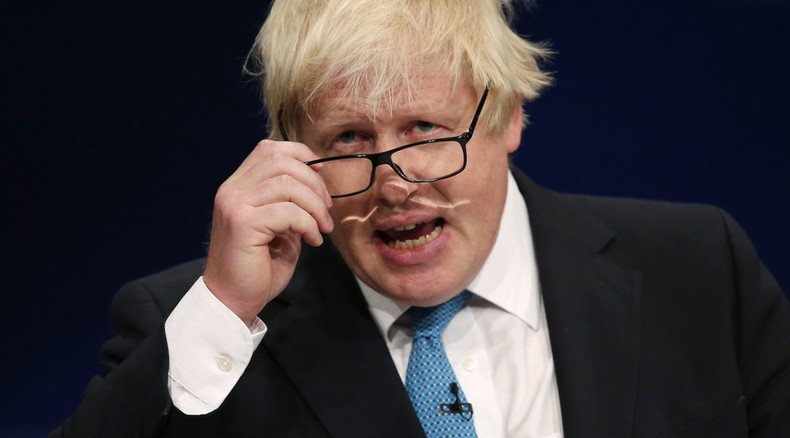 London Mayor Boris Johnson has been banned from a Palestinian charity visit after calling Israel boycotters "lefty academics" who wear corduroy jackets, it has emerged.
Speaking in Tel Aviv as part of a Middle East trade mission on Monday, the Conservative MP said the boycotters are "highly unlikely" to be influential in Britain.
"I cannot think of anything more foolish than to say that you want to have any kind of divestments or sanctions or boycott against a country that, when all is said and done, is the only democracy in the region, is the only place that has, in my view, pluralist, open society – why boycott Israel," he told local media.
"I think there's some misunderstanding over here about it. The supporters of this so-called boycott are really just a bunch of corduroy-jacketed … lefty academics who have no real standing in the matter and I think are highly unlikely to be influential in Britain," he added.
After making the controversial comments, Johnson was forced to cancel a string of events and meetings scheduled for his visit to West Bank on Wednesday after the Palestinian authorities warned him about their fears of protests.
Sad some events in Ramallah cancelled but enjoyed good discussion w/PM Hamdallah on trade between Ldn & Palestinians, peace process & Syria

— Boris Johnson (@MayorofLondon) November 11, 2015
The Conservative MP was also told he would not be welcome at the Sharek Youth Forum, where he was scheduled to meet a group of young Palestinians.
The charity said the Mayor's statements were "inaccurate, misinformed and disrespectful."
"[He] fails to acknowledge our very existence as Palestinians," a spokesperson for the charity said in a statement.
"As Palestinians and supporters of BDS [The Boycott, Divestment and Sanctions Movement], we cannot in good conscience host Johnson, as a person who denounces the international BDS movement and prioritizes the feelings of wearers of 'corduroy jackets' over an entire nation under occupation."
The charity's decision to ban Johnson comes after the Palestinian territories' first female governor, Laila Ghannam, cancelled her meeting with him for "personal reasons."
The Palestinian Education Minister Dr Sabri Saydam also reportedly refused to hold talks with the London Mayor.
On social media, Johnson admitted his comments had been very much "whipped up."
He told Palestinian reporters it would be "very sad" if people were planning to hold protests or harm him.
In the past month there has been a spike in violence between Israelis and Palestinians. Around 90 people have been killed in the recent spate of shootings and stabbings.
You can share this story on social media: