'Corbyn wants to scrap immigration limits' – UKIP's Nigel Farage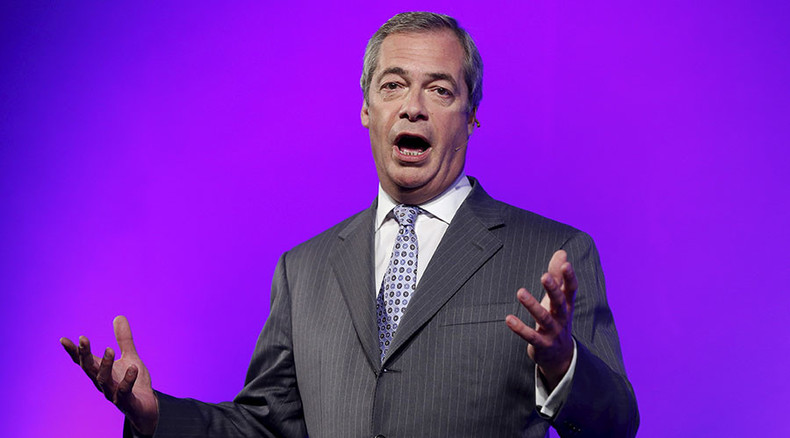 UKIP Leader Nigel Farage has called Labour a "divided party" and accused its leader Jeremy Corbyn of wanting "complete freedom of movement," including the scrapping of any immigration limits.
Speaking at the war memorial in Oldham, Greater Manchester, on Friday, Farage said Labour's candidate for the local parliamentary by-election, Oldham Council leader Jim McMahon, is "very much at odds" with Corbyn on many things.
McMahon, 35, is from the moderate wing of the Labour party. He was selected as the candidate in December's Oldham parliamentary by-election in a contest to replace left-winger Michael Meacher, who died in October aged 75, having represented the constituency for four decades. McMahon won the party's nomination on Thursday, ahead of a more left-wing candidate, local bus driver Mohammed Azam.
Asked whether McMahon was suitable to run for Oldham, Farage said he was a "good candidate," but further questioned why he is standing for a party led by a leader who has a "different political ethos."
He added that McMahon was the last person Corbyn wanted to win the election, adding they are "diametrically opposed."
"There are shades of the 1980s in this, when from one constituency to the next Labour had completely different representatives," said Farage, who in the 1980s sought unsuccessfully to be selected as a Conservative parliamentary candidate.
"He clearly would be very much at odds with Corbyn on very many things."
Addressing a conference of 50 supporters, McMahon said he is determined to see Oldham be the "best it can be."
"If people are willing to work hard and contribute they should get the reward of that," he said.
"I'm happy to stand forward for the Labour Party and I'm happy to show UKIP the door," he added.
According to Farage, many voters in Oldham would disapprove of Corbyn's "relaxed approach" to immigration.
"The fact is that on the immigration question it would appear that [Corbyn] believes in 'one world.' Now, I've read about this in exercise books in school and what it basically means is he believes in complete free movement of people and thinks that it was wrong in the last election that Labour advocated any limits at all. And I think that's going to be a big issue," he said.
Backing the Oldham candidate, Corbyn has insisted McMahon would win voters over for a "decent, better Britain."
"The people of Oldham have a chance to decide," Corbyn said. "Do they want a party in power, the Labour Party in power, that will defend the interests, the living standards of ordinary people and defend working tax credits and not take £1,300 a year away from 3 million families across Britain, which will in many cases stop them working, in every case reduce their standard of living?" he told the Press Association.