#StopSisi: Egyptian president's first UK visit met with protest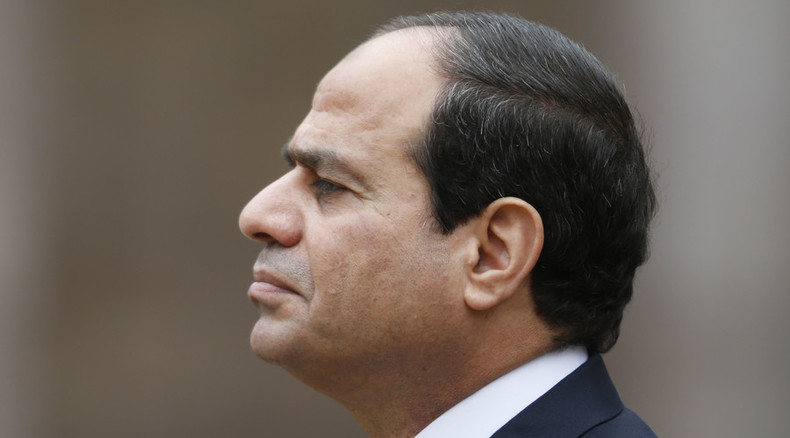 Hundreds of protesters are expected to flood the streets of central London on Wednesday as Egyptian president Abdul Fattah al-Sisi arrives at Downing Street to meet with Prime Minister David Cameron.
The meeting will go ahead despite mounting criticism of Egyptian human rights abuses and mass death sentences.
Since Sisi's visit was first announced in June, a day after an Egyptian court handed the deposed president, Mohammed Morsi, a death sentence, critics have questioned why Cameron would invite a "blood-soaked dictator" to the UK.
According to Egyptian media, Cameron and Sisi are expected to discuss terrorism, extremism and the conflict in Syria.
Campaigners, however, are calling on Cameron to confront Sisi on his human rights record and urge him to end mass death sentences in Egypt.
'Absolutely abysmal'
The Stop Sisi Campaign organizing the protest said: "Al-Sisi's human rights background is absolutely abysmal. He has imprisoned over 40,000 people, it is an abysmal situation in Egypt, things are going from bad to worse," campaigner Sameh Shafi told IBTimes UK.
"[Cameron] should not be inviting a blood-soaked dictator to the UK, where our values stand with human rights, freedom of speech, democracy. We should not give a red-carpet treatment to someone like that."
The campaign also told BuzzFeed News that Sisi is against "everything Britain stands for."
'Sisi's visit will be a sad day for the UK'
Human right campaigner Noor, who will be joining Wednesday's protests, said Sisi's visit would be a "very sad day for the UK."
"Inviting al-Sisi is a betrayal of all the values Britain holds dear," she told RT.
"Cameron has invited a man who is responsible for the deaths of thousands, and the unjust imprisonment of tens of thousands, what message does that send to the Egyptian public?"
Noor said that her 17-year-old friend Menna Mustafa from Egypt was dragged out of her university campus by security forces in November 2013 and has been imprisoned since.
"There was a student protest at her university, thugs attacked her uni and locked her and her friends in a room until security forces came and dragged them out," Noor said.
"I miss her. Not a day passes without me thinking of her.
"She was meant to be pardoned with Sisi's fig leaf list of presidential pardons but officers refused to release her."
The Labour Party has also criticized Sisi's visit to the UK. In an interview with Middle East Eye, Labour leader Jeremy Corbyn said that due to Sisi's human rights record he would not have invited Sisi to the UK.
'Cameron must call to end these abuses'
Human rights group Reprieve said Cameron must use Sisi's visit to call for an end of abuses in Egypt.
"If the UK is serious about encouraging Egypt to follow a 'rules-based system,' David Cameron must use Sisi's visit this week to call strongly for an end to these abuses," it said in a statement.
In a Facebook post, the British ambassador in Cairo, John Casson, said Sisi's visit will focus on helping Egypt "succeed as a stable, prosperous and democratic country."
'Chance to discuss values important to Britain'
The UK government told Reprieve that Sisi's visit will be an opportunity to discuss "the values which are important to Britain."
It added that Sisi's visit will also allow Cameron to talk about "our mutual interest in inclusive economic growth, democratic transition, a rules-based international system and security."
Sisi's government has effectively banned protests and sentenced hundreds of political opponents to death or life imprisonment.
No one has been held accountable for the death of more than 1,000 people during mostly peaceful protests at the hands of security forces after Sisi seized power in a military coup in 2013.