News legend's shows come to Britain: RT UK to air PoliticKing with Larry King & Larry King Now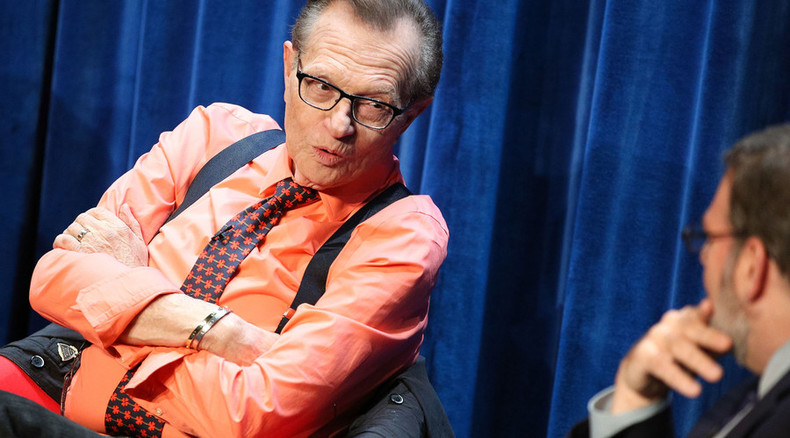 Legendary American broadcaster Larry King's two shows, "PoliticKing with Larry King" and "Larry King Now," will be broadcast in the United Kingdom exclusively on RT UK.
PoliticKing will be aired Tuesdays and Thursdays, starting November 10. Since the program was first launched on RT America in 2013, the veteran of radio and television has interviewed numerous prominent political and cultural figures, including the Dalai Lama, Vice President Dick Cheney and business icon and 2016 presidential candidate Donald Trump.
A second program by Lifetime Achievement Emmy recipient King, Larry King Now, will air three days a week - on Mondays, Wednesdays and Fridays, starting November 9. The show features interviews with stars from the world of pop culture, music, sports, film and TV.
King's recent guests include such celebrities as Oscar-winning actors Russell Crowe, Marion Cotillard and Matthew McConaughey; British personalities Cat Deeley, Boy George and Eddie Izzard; and musicians Celine Dion and David Guetta.
"Larry King's talent has always been the ability to see the wider picture, and make even local issues compelling for viewers in different corners of the world. This is what makes him a truly international broadcasting personality, and so appealing for our UK audience," said Margarita Simonyan, RT's Editor-in-Chief. "We are thrilled that our partnership with Larry continues to grow."
King says he is looking forward to bringing the shows to the UK. "I had always been heard in London through CNN and enjoyed visiting the city and engaging with fans", he said. "Our new UK audience will love our outstanding and influential guests on PoliticKing and Larry King Now and I look forward to bringing these invigorating conversations and interviews, to television audiences with RT UK."
Throughout his 58-year broadcasting career, King has interviewed some of the most influential personalities in modern history and culture, including Nelson Mandela, Yasser Arafat, Bill Gates, Frank Sinatra, Hugo Chavez, Margaret Thatcher, Vladimir Putin and every US president since Richard Nixon.