Shopkeeper shot with 'high-powered' pellet gun, thieves take cash register (VIDEO)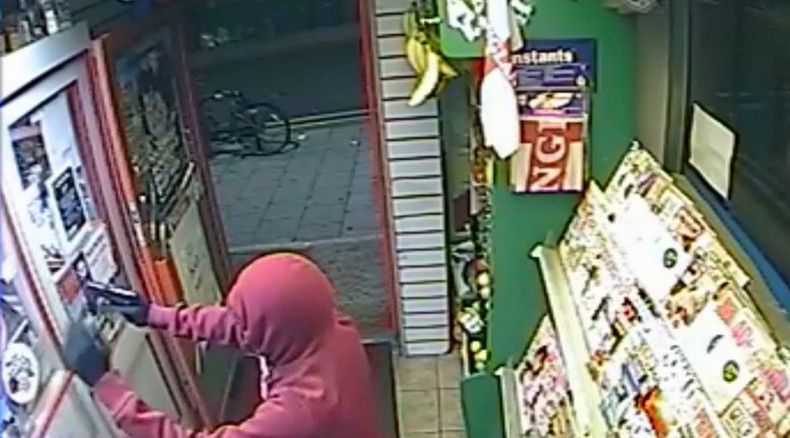 Violent robbers in Brixton, south London, shot a sales clerk in the face with a high-powered pellet gun before making off with the whole cash register.
Doctors are battling to save the 44-year-old shopkeeper's sight after some of the ball-bearing pellets lodged in his eyes.
The robbery took place at 20:35 GMT on October 25 at the Phambra Foodstore, Lyham Road, Brixton.
Police have released CCTV footage of the robbery, which shows two men entering the store, one of whom is carrying a metal handgun – now believed to be a high-powered pellet gun.
The dramatic video shows the moment one robber fires at the shopkeeper, while his accomplice leans over the counter and grabs the cash register.
Both men flee the scene, heading north of Lyham Road towards Thornbury Road.
The Metropolitan Police Specialist, Organised & Economic Crime Command is hunting for two suspects described as in their twenties and of medium build.
"This was a vicious attack that could have left a man blinded. We desperately want to find the men responsible for this crime," said Detective Constable Ben Turner, of the Met's Flying Squad.
"They used gratuitous violence to carry out this robbery and are clearly dangerous. I would ask anyone with information to come forward and help us catch these dangerous, violent men."