Shaker Aamer feared US captors would poison him on flight home, doctor reveals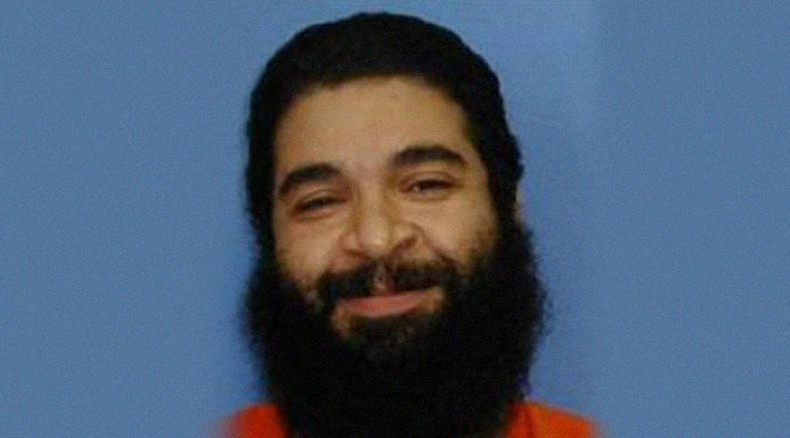 Britain's last Guantanamo Bay detainee Shaker Aamer refused to eat or drink on his flight back to the UK over fears he may be poisoned, his doctor has revealed. He is expected to be interviewed by Scotland Yard detectives over claims of torture.
After almost 14 years in captivity, Aamer, 48, was released from the notorious US detention facility and flown back to the UK.
He landed in Biggin Hill airport in Kent at around 13:00 GMT and driven to a private clinic, where he is now being treated for post-traumatic stress disorder, severe headaches and sciatica.
Dr David Nicholl, the first doctor to see the newly released detainee, said Aamer was so paranoid that he refused to eat or drink anything on his flight, fearing he would be poisoned.
"He said he wanted to meet me as soon as he got off the plane because of his level of mistrust for the doctors in Guantanamo. He was determined to see a doctor straight away and have all the samples taken," he told the Mail on Sunday.
"He feels that he has been poisoned and there is no investigation that he wouldn't go through to prove this," he added.
'He's been to hell and back'
According to Dr Nicholl, the psychological impact of what Aamer has been through is going to be "at least as big as the physical."
"He really has been to hell and back," he said.
After almost 14 years in detention, Dr Nicholl said Aamer looks "very different to the photos in the media," adding he has "aged a lot."
"His hair is greyer, longer. But it's the little things that strike you; he had this red holdall bag, the kind you'd use for going on a quick flight and that was 14 years in one bag which just had "Prisoner 239" on it – didn't even have his name.
"One thing that hasn't changed is that beaming smile. He's got an amazing personality and a fantastic sense of humor."
'Release is a miracle'
In a statement issued on Friday, Aamer thanked his family and campaigners for supporting him.
"The reason I have been strong is because of the support of people so strongly devoted to the truth," he said.
"I am overwhelmed by what people have done by their actions, their thoughts and their prayers, and without their devotion to justice I would not be here in Britain now," he added.
#ShakerAamer As chair of All Party Group on Shaker Aamer I'm breathing sigh of relief he's on way home to family.Well done to campaigners.

— John McDonnell (@johnmcdonnellMP) October 30, 2015
According to Aamer's father-in-law Saeed Siddique, the former detainee thinks his release is a miracle.
"He thanked God for hastening his release and sending him back to us. Right up until the last minute he didn't believe he would be released, and he still sounded surprised – as though it was a miracle," he said in a statement.
Aamer was reunited with his wife Zinnara for the first time in 14 years on Friday.
He initially requested to see his wife without their children so she could tell him how they've changed before he sees it for himself.
However, according to the Mail Online, he met his youngest son Faris for the first time over the weekend.
'Interviewed over torture claims'
It has also emerged that Aamer is expected to be quizzed by Scotland Yard detectives over claims he was subjected to human rights abuses with the complicity of UK officials at Guantanamo Bay.
According to lawyers, Aamer was tortured and abused during his time in captivity. He was allegedly deprived of sleep, beaten and held in solidarity confinement for 360 days.
Downing Street has also confirmed that Aamer will be subjected to "low level monitoring" as there are fears his presence in the UK could be used as a recruitment and propaganda tool by Islamist extremists.
Shortly after the 9/11 attacks, Aamer, whose family live in south London, was seized while working with a charity in Afghanistan.
In 2001, he was kidnapped and handed over to US forces. In February 2002 he was sent to Guantanamo Bay.
US intelligence accused him of aiding al-Qaeda and of knowing Osama bin-Laden personally.