Clashes erupt overnight as London police crack down on partygoers (PHOTO, VIDEO)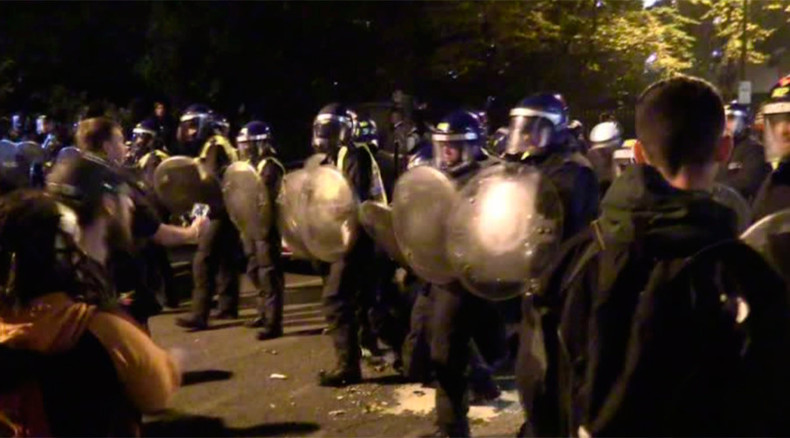 A riot erupted as police tried to shut down a rave in central London. Clad in riot gear, they had chairs, bottles and petrol bombs thrown at them by a crowd of up to 4,000 people. Although organizers tried to promote non-confrontation, the plea failed.
Trouble started around midnight, and at 3am police reported that the disturbances were still "very much ongoing". At least four arrests have been made.
The internet was ablaze with tweets from both locals and the police, who put on display all the furniture, bicycles and garbage thrown at them. There was even a propane tank.
The people first gathered on Black Prince Road, at Albert Embankment, before splitting up into smaller groups on Lambeth Road, Lambeth High Street and Whitgift Street. This is where Scumoween: A Nightmare on Scum Street – the event – was supposed to take place, featuring underground electronic music.
READ MORE: Drug use is a 'human right' – MPs
Police formed into lines to keep the situation from escalating, but that was unavoidable.
As revelers shouted "scum" and "pigs," officers with dogs and shields marched on with batons in hand.
Some 13,000 people were included in the free event on Facebook, although about 4,000 RSVP'd.
READ MORE: #Discoboy hosts impromptu Operation Stack rave (VIDEO)
The organizers appeared to know in advance that trouble would ensue, and so released a message on Wednesday, asking ravers to refrain from starting any confrontations with the police.
"This party is going ahead, stay peaceful, stay calm. Patience and numbers is in our favor. Do not antagonize the police. We don't need to. At the end of the day we want to leave them remembering our good attitudes, we just came to dance, we are not their enemy," the online message read.
The Metropolitan Police tweeted the following: "We would discourage anyone still thinking of attending the illegal rave in Whitgift Street from coming to the area due to ongoing police op."
It is not clear what set off the disturbances. London is known for hosting plenty of unsanctioned events – none of them involving confrontations with the law, petrol bombs and criminal damage. UK police have, however, been increasingly cracking down on illegal events, especially this year – a big change to the ordinarily lax treatment given by police.
The warring sides also dragged the locals into the chaos, who tweeted all night, complaining they couldn't sleep – many of them with kids.
The following message from the organizers appeared after things had calmed down toward the morning.