Icelandic volcanoes could power British homes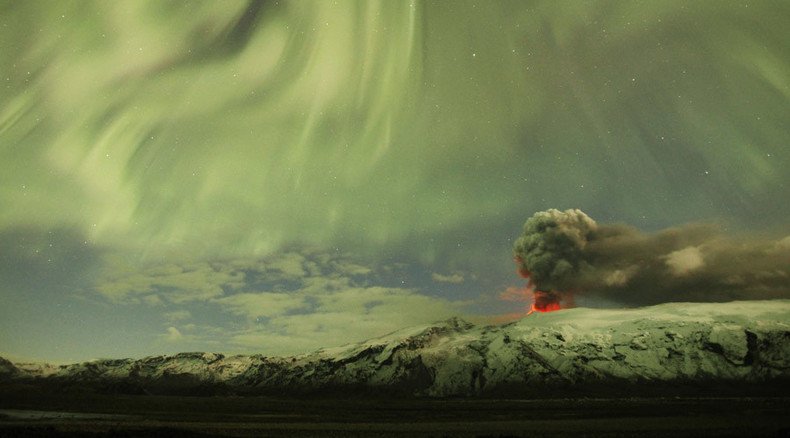 Homes in the UK could soon be powered by geothermal energy piped all the way from volcanoes in Iceland, Prime Minister David Cameron announced on Thursday.
A 750-mile "interconnector" would transport the energy to Britain if the plans go ahead.
Speaking at a press conference in the Icelandic capital Reykjavik, Cameron revealed a task-force has been established to examine the feasibility of the project.
If the exploration is successful then a giant hydro-electricity cable could be built between Britain and Iceland within a decade.
Cameron is the first British Prime Minister to visit the city since Winston Churchill in 1941.
Currently 95 percent of Iceland's energy is produced by hydro and geothermal plants. Cameron is using his visit to discuss using its resources as a long-term supply of renewable energy for the UK.
Cameron will meet with Icelandic Prime Minister Sigmunur Davio Gunnlaugsson ahead of the Northern Futures Forum, which will include leaders from Scandinavia and the Baltic States.
The talks are the latest in a series of discussions about using Iceland's geothermal power in Britain, which have been ongoing since 2012.
The prime minister's trip to Iceland and the Northern Futures Forum has also prompted further debate about Britain's relationship with the EU.
Prior to his arrival, Gunnlaugsson said Britain could benefit from a looser relationship with the EU, but Cameron has insisted he wanted to avoid the Norwegian model, which would see Britain pay for membership but be unable to engage politically with the union.
Iceland is also a trading partner with the EU, but not a full member.
Speaking in the House of Commons on Wednesday, Cameron said he would "guard very strongly against" trying to adopt the Norwegian model after UKIP leader Nigel Farage praised Norway's European success.
"If we don't get what we need in our negotiations I rule nothing out, but I do think it's important that as we have this debate as a nation that we are very clear about the facts and figures of the alternatives.
"Some people arguing for Britain to leave the European Union – not all people, but some people – have particularly pointed to the position of Norway saying that is a good outcome. I would guard very strongly against that," he told MPs.
However, Gunnlaugsson told the BBC it "might be better for the UK" if it reduced its involvement in the EU.
He said not being a member of the union was "essential" to his country's prosperity as it allowed the government to be in control of the "things that really matter."
"Having our own currency, which was absolutely essential, having control over our own laws to the extent that we could address the specific difficulties presented by the economic crisis, for example with the emergency acts, and thirdly having control over our own natural resources," he said.
You can share this story on social media: