'Real f***ing news' on RT: Raging reporter Jonathan Pie delivers it raw on UK economy (VIDEO)
Published time: 24 Oct, 2015 15:33
Edited time: 24 Oct, 2015 23:07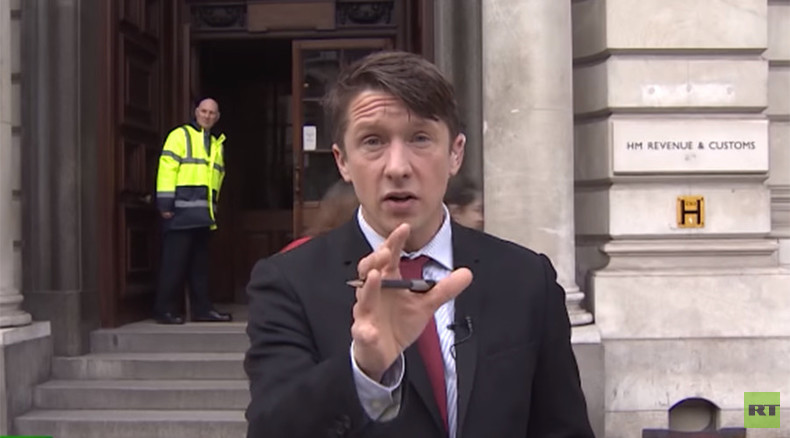 It's really hard to report on the profits of the banks, which destroyed the global economy a couple of years ago, when you yourself can't afford to buy or even rent a house in London – and spoof correspondent, Jonathan Pie knows all about this.
This is a usual report on the markets seen on every news channel:"…Which in turn left the Shanghai Composite down by 0.7 percent and Japan's NIKKEI tumbling 0.6 percent. The upturn of it all? Well, a bit of a scare on the London markets and, it's safe to say, a bit of a headache for George Osborne," Jonathan Pie says as his video kicks off.
What? Makes little sense for somebody without an MBA degree? The reporter confesses that he himself only understands "one word in three" of what he was saying – and since his editors didn't seem to be any brighter on the topic, he has to deliver it raw.
"Interest rates are up. GDP is down. Your mom's playing footsie with Dow Jones. And my a**hole is full of jam," that's what economy looks like according to Pie.
Jonathan Pie became a fresh internet sensation after posting a series of videos online, in which he unmasked the true agenda behind the news, acting as an angry correspondent, who is fed up with fooling his audience.
Don't miss Jonathan Pie's "Real f***ing news" reports every Friday on RT UK.
READ MORE: 'Funny 'cos it's true' – Jonathan Pie to RT
The statements, views and opinions expressed in this publication are solely those of the author and do not necessarily represent those of RT.