Online petition trolls Tory MP who fell for 'Cake' drug hoax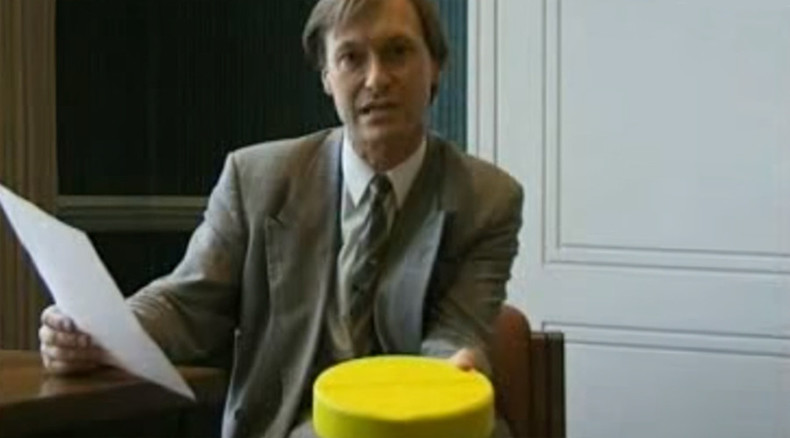 A tongue-in-cheek petition is calling on David Amess to ban a made-up drug called 'Cake.' The Tory MP was appointed chair of the Psychoactive Substances Bill Committee, despite once being duped by a spoof news show into denouncing the imaginary narcotic.
The online petition ridicules Amess by urging him to use his position as chair to ensure Cake is included under the legislation banning "legal highs."
Set up by Joe Lee, from London, the petition is hosted on Change.org.
Amess appeared on Channel 4's parody news show Brass Eye, broadcast in 1997, warning the general public about the dangers of a new legal high from Czechoslovakia called Cake.
In the episode, the Tory MP holds a comically-large pill while condemning the mythical drug.
"A big yellow death bullet in the head of some poor user – or custard gannet as the dealers call them," says Amess.
"I'm off to do what I can and if you don't mind I'll leave this here, I don't want to look at it for another moment."
Amess then goes on to promise to raise the issue of the fantasy drug in Parliament – something he actually did in a written question to the Home Office.
Tom Sackville, who was a Home Office minister at the time, mistakenly thought Cake referred to a known drug called 3,4-methylenedioxy-N-benzylamphetamine, which was not covered by legislation.
The fictional campaign against Cake was supported by equally fictitious anti-narcotics charities Free the United Kingdom from Drugs (FUKD) and British Opposition to Metabolically Bi-serbile Drugs (BOMBD).
The Change.org petition draws heavily on Brass Eye, which used surreal humor when poking fun at media sensationalism and the fomenting of moral panic.
"The drug affects the area of the brain known as Shatners Basoon and alters the user's perception of time," Joe Lee writes.
"Unable to accurately perceive time the users, or 'custard gannets' as they are known to dealers, have been regularly run over after believing they had more time to cross the road than they actually did."
"According to pressure groups Free the United Kingdom from Drugs (FUKD) and British Opposition to Metabolically Bi-serbile Drugs, side effects include severe water retention in the neck area leading to a condition known as 'Czech neck'. One user is also reported to have cried all the water out of his body," he adds.