Junior doctors ballot for strike action over pay cut & longer contract hours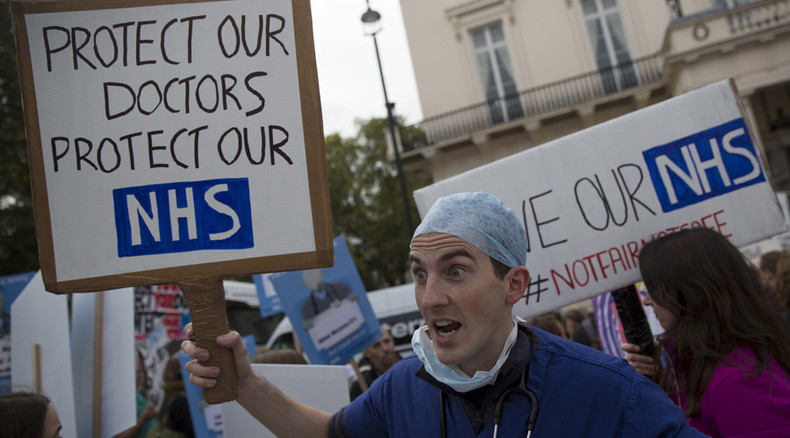 Junior doctors have decided to hold a vote on industrial action against Heath Secretary Jeremy Hunt's reviled new contract plan, which would require them to work longer hours for less pay.
The British Medical Association (BMA) has announced it will hold the strike ballot on November 5. If the motion passes, the doctors are likely to go on strike in December.
"This is not a decision that we have taken lightly, but the government's refusal to work with us through genuine negotiations and their threat to impose new contracts that we believe are unsafe for patients and unfair for doctors, leaves us with few options," said JDC chair Dr Johann Malawana.
The junior doctors argue the new contracts, which are part of Hunt's push to restructure the beleaguered National Health Service (NHS), are unfair and unsafe for both doctors and patients.
Under the new contracts, to be rolled out in August 2016, junior doctors' core shifts would end at 10pm rather than 7pm and will include Saturdays, resulting in slashes to overtime pay and salary reductions of up to 30 percent.
"The health secretary has accused junior doctors of misleading the public over the impact of his changes, yet at the same time he continues to conflate junior doctors' legitimate concerns and the government's rhetoric on seven-day services," Malawana said.
"The truth is that the junior doctor contract is in no way a barrier to seven-day services, with the vast majority of junior doctors routinely providing care to patients 24/7."
Last month, the BMA pulled out of negotiations with the government and said it will not return to talks unless Hunt makes major compromises.
"The BMA has been clear that it wants to deliver a safe and fair contract for junior doctors and the patients they care for. Instead of genuine negotiations, the government has insisted that junior doctors accept recommendations without question," Malawana said.
"This is unacceptable and would not have allowed the BMA to negotiate over proposals we believe are unsafe for patients, unfair for doctors and undermine the future of the NHS."