Fire rips through Bristol student halls (VIDEO)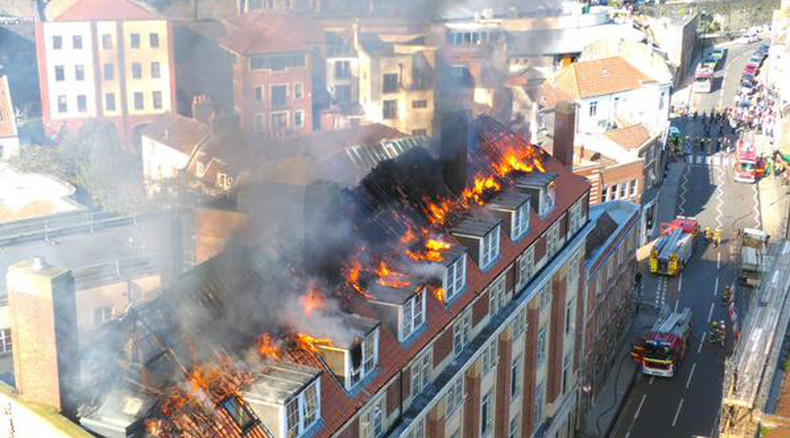 A major fire has broken out in student accommodation at the University of Bristol. The university says tenants will be rehoused.
Around 35 firefighters are dealing with the blaze, which destroyed the roof of the building on Colston Street just after 1pm Monday.
The street has been closed off by emergency services. There are not believed to have been any injuries.
In a statement, the Avon Fire and Rescue service said the fire has been contained to the fifth floor and roof space.
"Two turntable ladders are being used to tackle a fire in student accommodation," the fire service said. "More than 40 firefighters are on the scene, with the fire now contained to the fifth floor and roof space.
"At this time it's thought that no one was inside and there are no reports of any injuries."
One eyewitness told ITV News they thought a chip pan caused the fire, but emergency services have not confirmed this.
Mary Goodchild, 29, who lives in a flat near the burning building, said she was shocked when she saw the roof "completely on fire."
"I heard a popping noise about 40 minutes ago and the sun was blotted out," she told the Bristol Post.
"I went out onto the roof to see what was going on and the roof was on fire.
"There was a column of smoke and the roof was completely on fire. I had to go back inside because there was stuff flying everywhere.
"There was a lot of heat coming off the building and within about 30 minutes the roof was just a skeleton."
A spokesperson for the university said: "The University of Bristol is aware of the fire at 33 Colston Street, which is a university residence.
"Students have been evacuated from the building and as far as we are aware no one has been hurt.
"Students resident in the building will be rehoused and supported through the process.
"We will be working with Avon Fire and Rescue Service to determine the cause of the fire."