'Too big, too bossy': Cameron vows to redraw UK's place in EU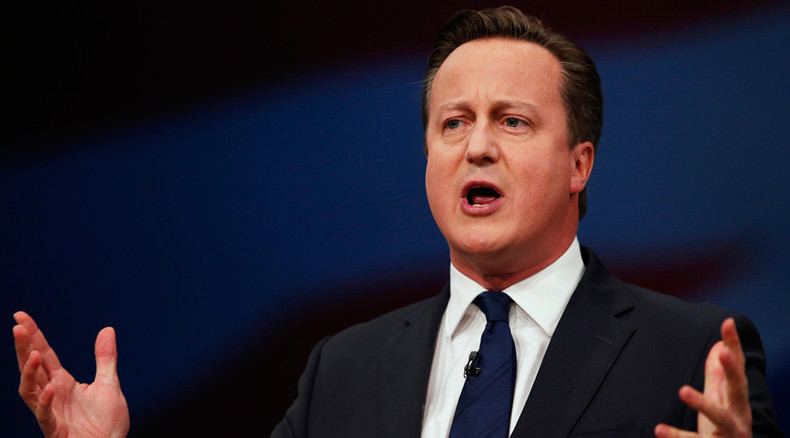 Prime Minister David Cameron has reiterated his commitment to renegotiating Britain's relationship with the EU in an attempt to sway Tory Eurosceptics ahead of a planned referendum on membership.
Speaking at the Conservative party conference in Manchester on Wednesday, the PM told delegates he would "fight hard in this renegotiation" in order to reach a "better deal and the best of both worlds."
"We don't duck fights. We get stuck in. We fix problems," he said. "We all know what's wrong with the EU – it's got too big, too bossy, too interfering. But we also know what's right about it – it's the biggest single market in the world."
READ MORE: Lord Lawson to lead Conservative Brexit campaign
Cameron has yet to present a detailed outline of his reform plans, but he is expected to call for an opt-out option of the European principle of an "ever-closer union," more powers for national parliaments and increased restrictions on migrants' benefits.

"Believe me, I have no romantic attachment to the European Union and its institutions. I'm only interested in two things: Britain's prosperity and Britain's influence. That's why I'm going to fight so hard in this renegotiation," he said.
Cameron has not yet set a precise date for Britain's in/out referendum, but has promised to hold it by the end of 2017.
Cameron is expected to continue discussions on Britain's future in the EU with German counterpart Chancellor Angela Merkel on Friday.
Last week, Thatcher-era finance minister Nigel Lawson announced he would head the newly formed 'Conservatives for Britain' campaign to leave the EU. He urged other Tory voices to join him, warning that if they stayed silent "less moderate, xenophobic voices will dominate the debate."
READ MORE: Brexit may benefit UK financial sector – economist
The United Kingdom Independence Party (UKIP) leader Nigel Farage announced last month the formation of Leave.EU, another "out" campaign group, backed by millionaire UKIP donors Arron Banks and Richard Tice.
Mainstream "in" and "out" campaigns are expected to launch early next week. The Tories say the party will remain officially neutral ahead of the referendum. This means that party-affiliated "in" or "out" campaigns will not be able to rely on Conservative party funding or resources.