Shaker Aamer fears he won't leave Gitmo alive, despite promised release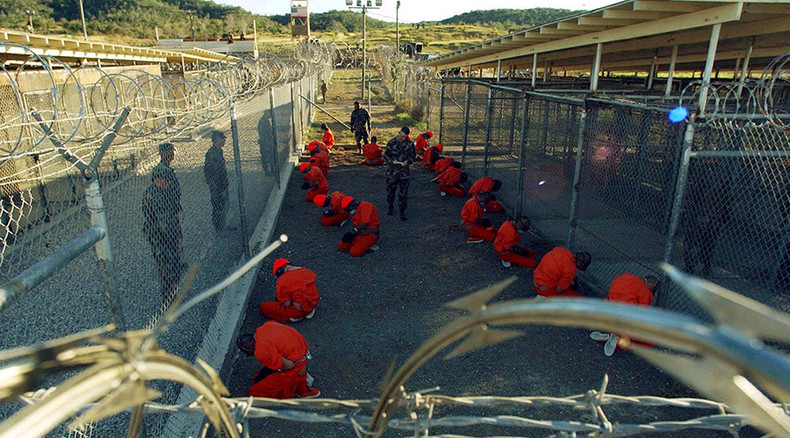 The last remaining British resident held at the Guantanamo Bay prison, Shaker Aamer, fears he will die in captivity, despite US authorities having promised to free him within weeks, his lawyer has revealed.
Shaker Aamer, 46, who spent 14 years in detention without charge and is set to be released from the notorious prison, has warned his wife and children in London he may die in captivity since there are people "who do not want me ever to see the sun again."
READ MORE: Cameron welcomes Shaker Aamer release, calls for closure of Guantanamo
"It means nothing that they have signed papers, as anything can happen before I get out. So if I die, it will be the full responsibility of the Americans," he said in a telephone call to Clive Stafford Smith, the head of his legal team, The Daily Mail reported.
Aamer has been on a hunger strike since August after allegedly being assaulted by prison guards who forcefully took his blood samples.
The Daily Mail has also obtained and published a 24,000-word draft of a statement to the Metropolitan Police which he drew up two years ago to attract public attention to human rights violations taking place in Guantanamo Bay.
Among other infringements of his rights, he cited torture and physical mistreatment which he said had been employed by prison personnel in order to obtain evidence.
The administration of US President Barack Obama announced its decision on September 25 to free Aamer and sent him back to Britain, where he hasn't been since 2002. Aamer cannot be released right away since US Congress requires 30 days notice.
READ MORE: US 'shamefully' refuse to release Shaker Aamer from Guantanamo despite UK pressure
Shaker Aamer, the British resident from Battersea, south London, was seized in 2001 by bounty hunters in Afghanistan shortly after the 9/11 terror attacks.
He was placed in Guantanamo Bay in February 2002 and accused of Al-Qaeda links, but the accusations never went to trial.
He almost managed to get out of prison in 2007 when the allegations were dropped but despite David Miliband's formal request, which he filed while he was serving as foreign secretary, the US refused to let him go.
Speaking on the phone with Obama, British Prime Minister David Cameron welcomed the return of the last British citizen at Guantanamo Bay back to the UK and also called for the immediate closure of the facility.
LISTEN MORE: