Corbyn must come clean on Trident nukes, show true leadership – SNP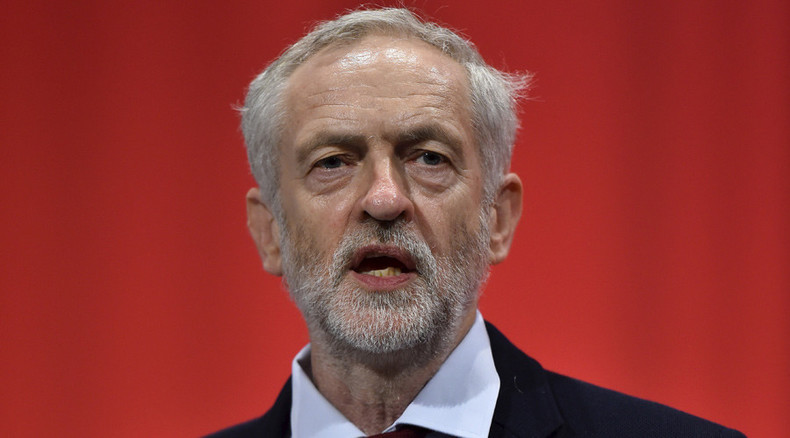 Labour Party leader Jeremy Corbyn is facing mounting pressure from the Scottish Nationalist Party (SNP) to clarify his position on Trident. The Labour chief attracted sharp criticism on Wednesday after he said he would never use nuclear weapons.
Corbyn commented on Trident's nuclear deterrent on the final day of Labour's annual conference in Brighton. The matter was added to the conference agenda after local constituency parties put forward motions opposing the nuclear program.
Corbyn's anti-nuclear stance sparked condemnation from senior Labour MPs and hawkish Conservatives, who questioned his ability to rule as prime minister in times of crisis. The contentious issue also highlighted internal party divisions, drawing attention to challenges on the road ahead for Corbyn.
Critics questioned Labour's commitment to renewing Trident, while the SNP called for Corbyn to come clean on his position. The SNP, which is calling for the £100-billion nuclear deterrent to be scrapped, has campaigned stringently against the program's renewal.
In May's general election, Labour lost 40 seats in Scotland as the SNP secured 56 of the 59 contested Scottish constituencies. The party's opposition to renewing Trident was thought to be an important factor in winning over the Scottish electorate.
'Indefensible'
SNP deputy leader, Stewart Hosie, said Labour's position on Trident had become "utterly indefensible." He demanded Corbyn declare his stance on the nuclear deterrent during his first official trip to Scotland.
"After days of chaos and infighting, Jeremy Corbyn must use his trip to Scotland to make clear whether he is leading Labour – or whether Labour is leading him," Hosie said.
"Jeremy Corbyn needs to be straight with the people of Scotland – will Labour oppose Trident nuclear weapons on our shores, or simply allow the Tories to go ahead with this outdated and unwanted project?"
Speaking ahead of his visit to Scotland, Corbyn neglected to mention Trident.
Rather, he said the stark erosion of support for Labour in Scotland in May's general election resulted from its support of the Better Together Campaign and its refusal to offer a viable alternative to austerity.
"Too many people have told me that they think the Labour Party lost its way," he said.
"We need to win back their trust by showing them exactly what difference a Labour government would make to their lives."
Corbyn will conduct talks with Kezia Dugdale, Labour's new leader in Scotland and other Labour MSPs at Holyrood on Thursday. He is also due to meet Scottish trade union chiefs, council leaders and local Labour campaigners.
Though Corbyn is personally opposed to Trident's renewal, much of Labour's newly assembled shadow cabinet support it.
On Sunday, newly appointed Shadow Foreign Secretary Hilary Benn told the BBC he believes Britain needs to keep Trident.
Benn said he is confident his party will vote to keep the nuclear deterrent as well as remain in NATO, despite Corbyn's criticism of the alliance.
"My view is that we need to maintain an independent nuclear deterrent," he said.
"I share with Jeremy the wish to see a world which is free of nuclear weapons, but I don't believe for one second that if Britain were to give up its deterrent any other of the nuclear states would give theirs up."
Corbyn and anti-nuclear campaigners are calling for a program to retrain and redeploy nuclear engineers in the green and renewables industry. The government will make a decision on the £100-billion renewal of the Trident system in 2016.
LISTEN MORE: