British prisons 'could ignite' over smoking ban in cells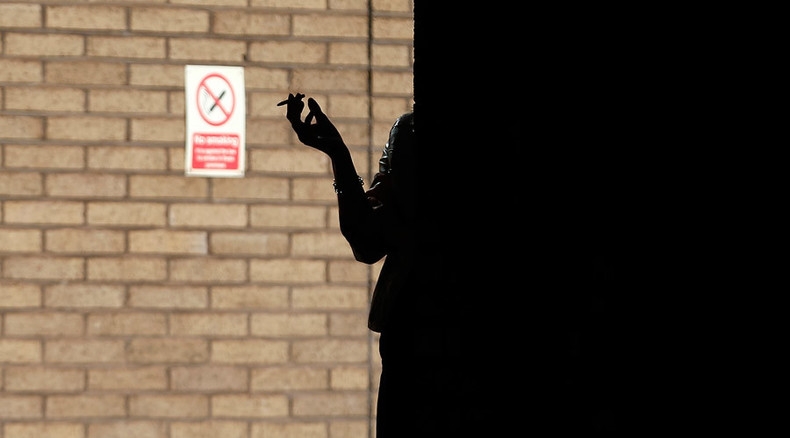 Smoking in cells will become illegal in England and Wales from next year, despite prison ministers warning the ban could trigger unrest and cause inmates to rebel.
The ban will take effect in all prisons in Wales from January and in four jails in southwest England from March.
The new prohibition means inmates will be banned from buying or using tobacco in cells.
The controversial rule was first introduced when Ministry of Justice (MoJ) findings of air-quality tests undertaken in six prisons revealed that staff were spending at least one-sixth of their time breathing second hand smoke.
Second-hand smoke was found to be a significant health hazard to prisoners and staff.
The tests also found many of them were inhaling smoke levels higher than World Health Organization (WHO) guidance limits.
Currently, prisoners are allowed to smoke in their cell but not in communal areas. From early next year, every prison in England will provide voluntary smoking areas.
From next month, open prison inmates will only be allowed to smoke in certain outside areas.
"Just like nurses and office workers, prison customers will have to go just outside the main entrance if they want to smoke," Lord Chancellor and Secretary of State for Justice Michael Gove told the Evening Harold in July.
"The ones I've spoken to seemed surprisingly open to the idea," he said.
Research shows four out of five prisoners are smokers, meaning the ban, when implemented, could lead to widespread unrest among inmates held in Britain's already overcrowded, under-resourced prison system.
'Difficult thing to do'
Prisons Minister Andrew Selous said implementing smoke-free prisons is a "difficult thing to do," given the high number of smokers in cells and the "unique environment" they live in.
"We have no plans to move to smoke free prisons overnight and will only do so in a phased way that takes into account operational resilience and readiness of each prison," he told the Telegraph.
"The operational safety and security of our prisons will always be our top priority," he said.
Chief executive of health charity ASH Deborah Arnott has also welcomed the move, saying the organization has been rooting for this ban since 2005.
She told Sky News prison chiefs in Northern Ireland and Scotland should follow suit.
The Prison Reform Trust said prisoners should "at least" be allowed to smoke outside.
"Michael Gove has said we should send people to prison 'as punishment, not for punishment,'" the trust's deputy director Peter Dawson said in a statement.
"So there has to be a good reason for denying prisoners a freedom when that is not 'a necessary consequence of imprisonment.'
"A sensible and considered approach to smoking in prisons would leave prisoners with a choice – at least to smoke outside.
"If that is to be denied to them, there has to be proper support while people give up – not just smoking cessation aids, but increased vigilance for signs of distress that could easily turn into self-harm or worse."