Osborne love-bombs China, but stays silent on human rights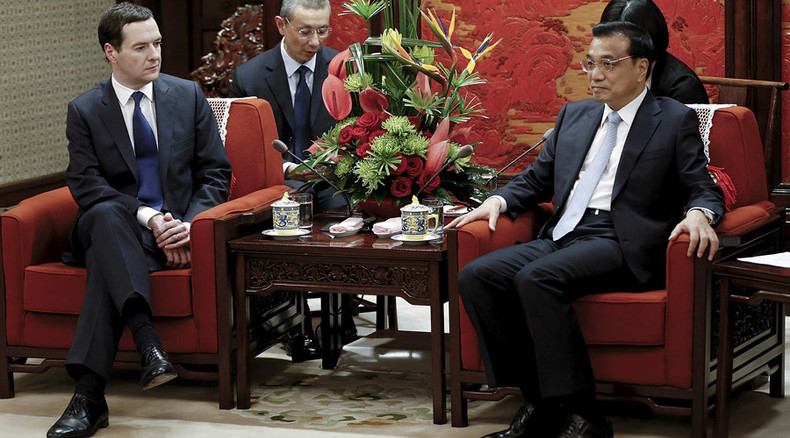 Chancellor George Osborne wants forge closer economic ties with China, despite concern over the country's poor human rights record and economic stability.
Osborne visited Urumqi, the capital of the politically sensitive region of Xinjiang, on Wednesday where he spoke of Britain's commitment to supporting growth in the region.
The Chancellor faced criticism for failing to speak out about the repression of the region's Muslim Uyghur minority, which many observers' blame for the occasional outbreaks of violence in Xinjiang.
At least 40 people were killed in an attack on a coal mine in Xinjiang on Wednesday, the day Osborne arrived in the region.
The Chancellor has so far remained silent on China's human rights record, refusing to discuss the subject in public and insisting he had raised the issues as part of a "broader conversation with China."
"China's emerging regions, like Xinjiang, hold enormous potential in the years ahead," the Chancellor said in Urumqi on Wednesday.
"That's why I wanted to come here today to see this place for myself, and highlight Britain's absolute commitment to support the growth of Urumqi together with the whole of the Xinjiang region."
Asked by the Guardian about the latest outbreak of violence in Xinjiang, Osborne refused to comment as he did not know any details.
"We are only just getting reports about this, this morning, so I don't want to rush to comment on something until we have all the details. But obviously if people have been injured or indeed killed that is a tragedy and our sympathies are with the victims and their families," the Chancellor said.
"We never condone violence – whatever the cause. We always seek a peaceful resolution of disputes in our world and we hope a peaceful resolution can be arrived at."
At least 40 people were killed, including police officers, security guards and colliery manages in an attack on a coal mine on Wednesday, according to the US-funded Radio Free Asia (RFA).
Chancellor George Osborne winning the look the other way at human rights atrocities while grabbing cash from China competition

— Will Black (@WillBlackWriter) September 23, 2015
Osborne's apparent supplication to Beijing has received criticism from human rights groups, who accuse the Chancellor of sending China the wrong message.
A spokesman for the World Uyghur Congress, a group for exiled Uyghurs, said Britain's silence was "disappointing."
"George Osborne's inability to publicly denounce China's suppression of Uighurs is disappointing," Munich-based Dilxat Raxit said.
"Britain can't give the silent nod to China's particular suppression of the Uighurs due to economic benefits, sending the wrong signal to China and leading to China increasing monitoring and suppression in the region. China is using economic interest to divide the West."
The Chancellor has also come under fire for promoting what some pundits consider a 'risky' economic relationship with Beijing, given the country's recent market crash.
Osborne wants to give Chinese investors a direct link to the London Stock Exchange and make China the UK's second biggest trading partner by 2025.
Earlier this week he announced £2bn of subsidies to encourage Chinese investment in Britain's nuclear power industry.
Economist Linda Yueh warned Osborne's strategy came with significant risk after China's stock markets tumbled on 'Black Monday' last month.
"Chinese stock markets are down by 40 percent this year," she said.
"If you link up in this way you are directly transmitting the volatility of a country that is undergoing this dramatic transition. That is something that needs to be looked at very hard. I would be very surprised if this link up happens quickly."