Petition to sack general who threatened anti-Corbyn military coup hits target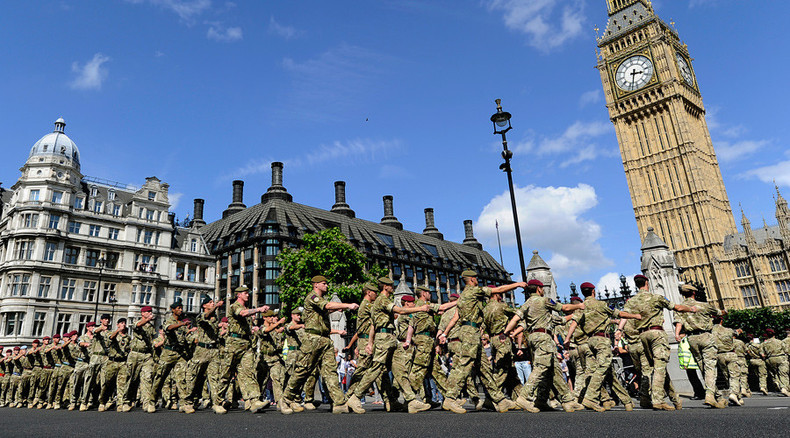 Defence Secretary Michael Fallon is under growing pressure to investigate as a petition to sack the serving general who threatened a military coup against Jeremy Corbyn if he is elected prime minister hits its target.
The Change.org petition started by Left Unity has now secured over 5,000 signatures. It calls for Prime Minister David Cameron to sack the senior serving general who made the comments anonymously on Sunday.
"A senior serving general in the British army has been reported as calling for a mutiny if Jeremy Corbyn, the new leader of the Labour Party, becomes prime minister," the petition says.
READ MORE: Anonymous general who predicts anti-Corbyn mutiny should be named by GCHQ – SAS veteran

"This is direct interference in Britain's democratic process. We call on David Cameron to remove this general from his post."
The Ministry of Defence (MoD) has claimed there will be no leak inquiry due to there being too many generals to investigate, a response which had been treated with derision by members of the public and politicians alike.
The general in today's Sunday Times threatening a mutiny or coup if Corbyn becomes PM should surely be cashiered on the spot.

— GeorgeMonbiot (@GeorgeMonbiot) September 20, 2015
"This is deeply worrying. I will be writing to Mr Fallon to express my grave concerns that the MoD is not going to investigate such a threatening statement made by a senior member of the Armed Forces to a journalist," Labour MP Madeleine Moon told the Independent on Monday.
Moon, who sits on the Commons Defence Select Committee, warned the threats make Britain look bad on the global stage.
"Can you imagine how this is reverberating around the world? In many countries it will look as if the British military is threatening a coup, and the MoD doesn't think it should be investigating. It is totally unacceptable."
General says there will be a military coup if Corbyn gets in. If we didn't need an army that would mean the world was a better place...!

— Paul Bannister (@PaulDBannister) September 22, 2015
"I shall also be raising the matter at the next Defence Select Committee meeting," she added.
On Monday a former British special forces veteran, Ben Griffin, pointed out the British government had extremely advanced investigative powers at its disposal.
"GCHQ could tell the MoD today which general it was," he told RT, referring to the government's world-leading signals intelligence agency.
"GCHQ collect the metadata of all phone calls and emails so they will have a record of which generals have been in touch with the journo who wrote the story," he added.