British businesses should 'run towards China' in spite of human rights record – Osborne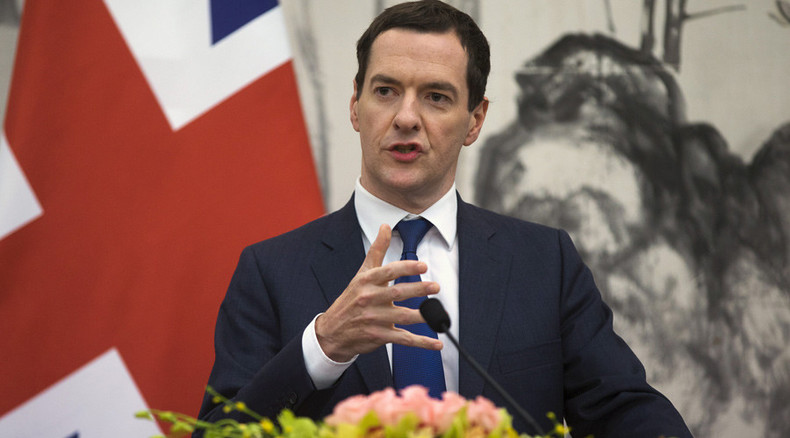 Chancellor George Osborne has called for Britain to "run towards" business opportunities with China, despite recent concerns over the country's economic stability and its human rights record.
Speaking on the first day of a five-day tour of China, Osborne said the UK should be more integrated with China and British financial institutions should establish "proper links" with their Chinese counterparts.
He urged Chinese leaders to continue their economic reforms, which include attempts to grow domestic demand and liberalize markets.
The Chancellor said he wants Britain to be China's "best partner in the west," despite concerns over the country's harsh crackdown on freedom of speech and provocative foreign policy in the South China Sea.
Speaking at a press conference in at the Communist Party's Diaoyutai state guesthouse on Monday, Osborne said both China and Britain would benefit from a closer economic partnership.
"My message on this trip is that Britain can't run away from China. Quite the opposite, Britain should run towards China," Osborne said.
"We should be doing more business with China. We should be better connected to the Chinese economy. Our financial institutions should establish proper links. I think that will help China with the important reform and change that it is undergoing, but I also think it is going to help Britain."
The Chancellor repeated his wish to make Britain one of Beijing's best friends in the west.
"Our message to China is very clear: we want the UK to be China's best partner in the west," he said.
"For the UK a key part of our economic plan is precisely to develop our links with these new emerging economies of which of course the outstanding example is China."
Osborne's love-bombing of Chinese officials comes as the country grapples with economic reforms and the worst financial instability it has seen in two decades.
Chinese markets suffered their biggest drop since 1996 in late August, causing stock exchanges around the world to plummet.
Speaking in China on Sunday, Osborne urged observers to put the country's economic problems into perspective.
"The Chinese economy is forecast to grow over the next five years in such a way that it will add to the world economy an economy the size of the United Kingdom at least. So the growth in the Chinese economy will be more than the entire British economy at least in the coming five years."
Beijing has also come under fire for its harsh crackdown on dissent, which has seen more than 200 lawyers and activists interrogated, detained or disappeared since July.
Chinese President Xi Jinping is considered by some to be China's most authoritarian leader since Mao Zedong.
Beijing's assertive foreign policy in the South China Sea, which includes extending its military reach by building airstrips in disputed waters, has raised alarm in the region and among the wider international community.
Osborne took no questions about human rights or China's foreign policy during the press conference on Monday.
In an emailed statement, the Chancellor claimed he had raised human rights issues in meetings.
"We don't see a choice between securing growth and investment and raising human rights issues. We do both consistently, and indeed I have done so in meetings here in China," he said.