Lib Dem blogger offered £5,000 to run naked down Whitehall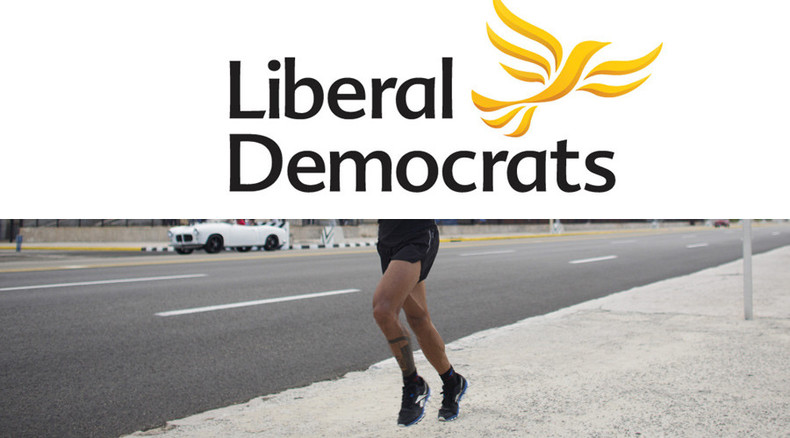 A Liberal Democrat blogger has been offered £5,000 to complete a bet he made before the general election, in which he said he would run naked through central London if the party lost over half its seats.
Co-editor of Liberal Democrat Voice Stephen Tall was offered the sum by the Sun newspaper's former editor Kelvin MacKenzie, when the pair appeared on the BBC's Daily Politics show.
MacKenzie asked Tall why he had not yet delivered on his promise to run naked through Whitehall, and after offering the money, the pair shook hands. MacKenzie pledged to donate the money to a charity of Tall's choice.
The bet was originally made in September 2013 after a poll suggested the Lib Dems would win as few as 24 seats in the 2015 general election.
The beleaguered Lib Dems, however, only managed to win eight seats in the election after disillusioned supporters believed they had back-tracked on their pre-election promises.
Tall tweeted "Will I never learn?" after his appearance on the show, but users encouraged him to see through the bet.
It comes as the party holds is first conference since the general election.
On Monday, former leader Nick Clegg said the Lib Dems had the capacity to be the "comeback kids of British politics."
In his speech he said it had been a mistake to pitch themselves as the halfway house between the Conservatives and Labour, as it had seen the party compromise its views and made them come across as a tactical coalition party.
He added the election of Jeremy Corbyn as Labour leader would allow the Lib Dems to occupy space in the center-left ground as a progressive party.
"We can be the comeback kids of British politics. As dawn follows the darkest hour, there is now space in British politics for a Lib Dem fight back," he told the conference in Bournemouth.
Clegg also said his party had "copped all the political blame" for unpopular coalition policies, calling David Cameron and George Osborne "lucky generals."