Security kicks out 'Death' from world's biggest arms fair in London (VIDEO)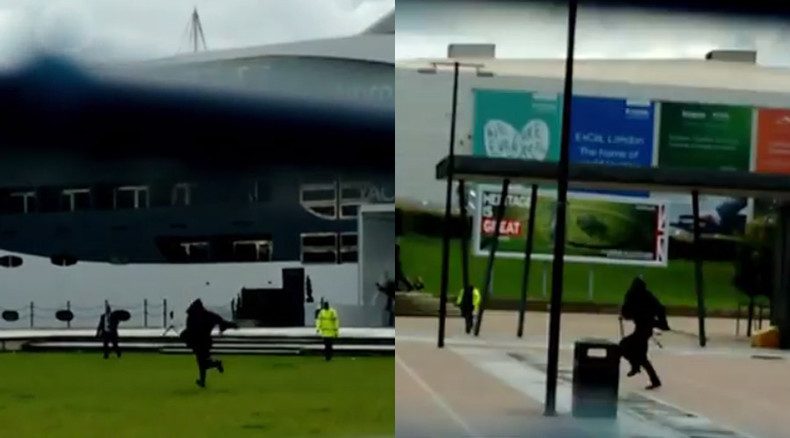 Security guards chased and then pinned down a protester dressed as Death at a weapons' fair in the British capital. The activist was protesting the sale of arms to countries with poor human rights records.
The man, literally dressed to kill in a black hooded robe and carrying a scythe, reportedly had to climb over a 12–foot fence to enter the Defence and Security Equipment International exhibition on Friday.
As soon as the fearless "grim reaper" turned up at the event, he was spotted by security guards. They were obliged to break into a sweat to catch the guy in an effort to stop him from "killing the mood" for other visitors.
The guards were rather slow off the mark and fleeing 'Death' was welcomed by some passers-by who cheered in support. After a while the grim reaper appeared to trip up on his robes and was finally nabbed by his pursuers, who ejected him from the site.
The incident was part of protests against peddling arms to countries where human rights are routinely violated. The anti-war and anti-arms trade groups, including Campaign Against the Arms Trade (CAAT) who staged the actions earlier this week, oppose the UK government, which continues to sell weapons to those countries.


Amnesty International launched an ad campaign in a number of London newspapers last week, criticizing the city's policies and the decision to do business with such nations as Saudi Arabia and Bahrain.
The fair takes place at London's Docklands every two years. Buyers and sellers from around the globe flock to London in the hope of signing huge contracts.
There is always heavy police presence at the event due to the controversy it causes.
The Defence and Security Equipment International (DSEI) is one of the world's biggest arms shows, with more than 1,500 exhibitors and 42 national pavilions and representatives from 50 countries.