Russian embassy mocks Cameron's tweet on Labour being 'national threat' to Britain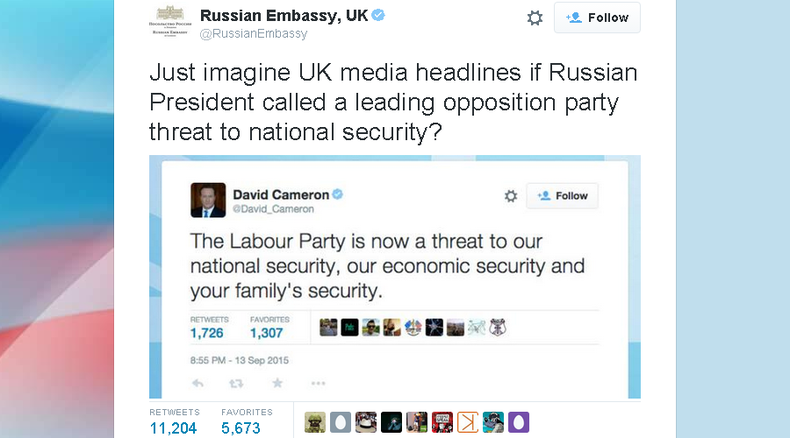 David Cameron's reaction to Jeremy Corbyn's rise to Labour party leader has been mocked by Russia's UK ambassador, who wondered how people would react if it had been the Russian President who had called the opposition a "national threat," triggering a twitter storm.
After securing a stunning first round victory last Saturday, Jeremy Corbyn has been elected leader of the British Labour party – much to the displeasure of the Conservatives and their leader, UK Prime Minister David Cameron. Commenting on Corbyn's victory, Cameron has stated that the Labour Party has become a "threat to our national security, our economic security and your family's security."
The Russian Ambassador to the United Kingdom Alexander Yakovenko apparently found the statement unworthy of a top politician and wondered how would people react if, for instance, the Russian President said anything like that publicly.
"Just imagine UK media headlines if the Russian President called a leading opposition party a threat to national security?" the embassy responded on its Twitter account, launching a fierce debate and endless stream of re-tweets.
The Russian Ambassador in turn congratulated Corbyn on his victory and wished for a positive dialogue. "Congratulations to @JeremyCorbyn. Hope for positive change in terms of debate, incl on our relations," Yakovenko tweeted from his personal account.
READ MORE: Corbyn unleashes 'new style' PMQs on Cameron
Six days later, Yakovenko's rhetorical question which he sent out from the embassy's account continues to trend and has been re-tweeted over 11,000 times. Quite ironically, Cameron's initial reaction to Corbyn's victory received much less popularity.
READ MORE: 'National security threat:' Meet the neocons' worst nightmare
"Such approach to the results of a completely democratic process is so egregious that it was difficult to resist [replying with] the counter-tweet, which is what I did," Yakovenko explained during the interview with Rossiya TV channel.
"To tell the truth, I did not expect that there would be such a serious response, including outside Great Britain. But it resonated precisely because of the context of what is happening, and the context, I am sure, determines everything," the Russian ambassador said.
The context, Yakovenko says is "a radical revolution in British politics" where young voters with impressive majority supported Corbyn and the mainstream opposition, moving from thirty years of dominance of the "Thatcherite" neoliberal political establishment.
The Russian ambassador says the election of the 66-year-old pacifist is a move by the British public to move away from the lack of pluralism in an austerity-weakened UK with "growing income inequality [and] destroyed the middle class."
According to Yakovenko, the election of Corbyn has shown that the British people challenge the existing political order and want changes the new Labor leader could offer them.