British kayakers survive collision with breaching whale (VIDEO)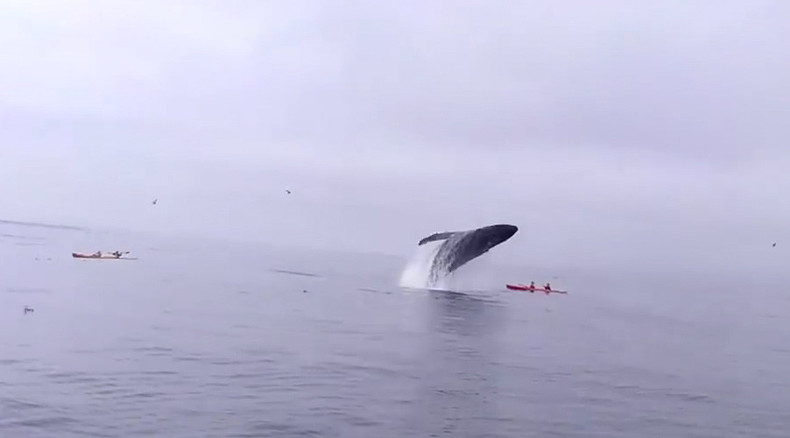 Two British holiday makers are glad to be alive after a colossal humpback whale leapt out of the water and landed on their kayak.
The pair were paddling off the coast of California at Monterey Bay when the whale suddenly breached, landing directly on their kayak and completely submerged them.
Wildlife film-maker Tom Mustill and his friend Charlotte Kinlock were filmed by passengers on a whale-watching boat, who captured the terrifying moment.
"I remember coming to the surface and thinking, 'How am I not dead? Maybe I've got lots of injuries but I'm in shock and can't feel them,'" Mustill told the Daily Telegraph.
"Then I saw Charlotte and thought, 'How is she not dead?'"
Kinloch, 30, said the blow felt like an avalanche.
"It felt like being in an avalanche, like a bus landing on us."
Mustill said they were planning to head back to shore after a couple of hours paddling with the giant marine mammals.
"There were whales on the surface that we were watching, but we didn't see this one. when a whale breaches you don't see it on the surface because it has to get momentum from quite deep down.
"Then we saw it. It was above us and all I could see was this whale crashing towards us, blocking out the light. I thought, 'Oh, I'm going to die now.'"
Kinloch said she was reprimanded by her parents.
"My mum just told me I'm never allowed to go on holiday again!"