Refugee crisis? There's an app for that! Calais drivers get new download to report stowaways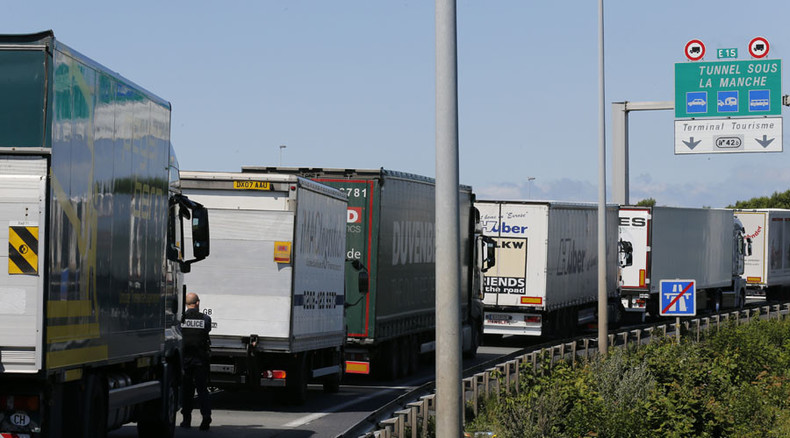 A new app has been created to allow truck drivers to report refugees attempting to enter the UK illegally hiding in their vehicles. It also notifies local police about any suspicious behavior among drivers traveling from Calais.
The app, called BF Intelligence, allows drivers to report heavy traffic and delays to other drivers in the area.
Information is shared between drivers, unless there are reports of suspicious behavior – when information can be passed to local authorities.
Designed by Jeffrey Scott in Sussex, southern England, BF Intelligence is free to download for motorists, but users can access extra features at a small cost.
Scott came up with the concept after visiting Calais and seeing drivers alert each other to dangerous migrant behavior by beeping their horns.
"Anyone can download the app from the app store," Scott said. "Users can view any alerts happening around them, and can also make reports of their own for example about delays in the tunnel or any accidents.
"I was in Calais a few weeks ago and we saw drivers that wanted to warn drivers in front that there were migrants trying to get in the back.
"It is a tough situation. It was quite intimidating for one driver that we saw beep his horn to warn someone in front – especially when it is a large group.
He said the app is available worldwide, but hoped it would specifically make a difference for drivers in Calais.
"The app can be used anywhere around the world but of course the main problem at the moment is in Calais for HGV drivers. It is something new and it's really exciting to see how it goes.
He added: "I have a really clever team here of designers and programmers and we have really been pushing for a simplistic, easy-to-use design with an emphasis on not making it more complicated than it needs to be."
Scott said he was inspired to create the app last year, during a security conference at Calais when Home Office officials spoke about the difficulty of detecting migrants.
"It was at the Innovate UK event that I listened to the Home Office officers who were reaching out to the industry and to universities for help.
"I decided to go to Calais after hearing from the border officers and seeing the reports in the media. In just a few minutes of being there I saw a group of people disappear over the top of a truck.
"It is a real problem and dangerous for those attempting to cross by hiding in vehicles.
"I did see a lot of drivers sounding horns and trying to warn each other – there was a real camaraderie amongst them.
"It was reassuring to know we were developing something that had a real purpose," he said.
The app is available to download for free from the App store and an Android version is under development.