SNP manifesto to pledge 2nd Scottish independence referendum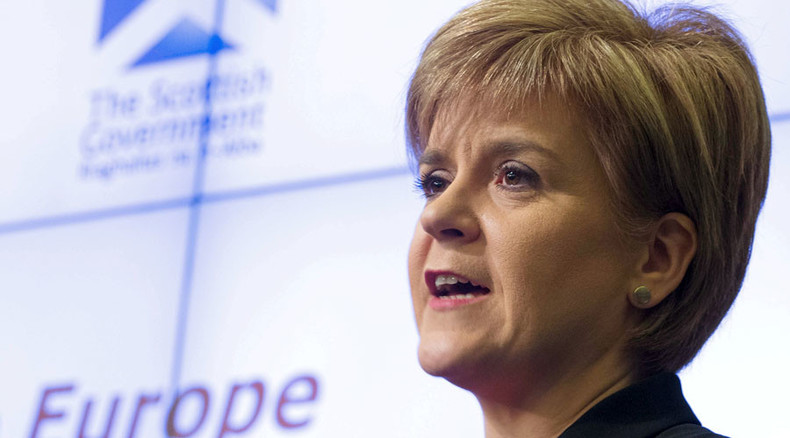 One year after Scotland narrowly rejected independence, First Minister Nicola Sturgeon reveals the Scottish National Party (SNP) will set out a timetable for another possible referendum in its 2016 Holyrood election manifesto as it "might be appropriate."
The SNP leader, who previously said last year's referendum was a "once in a generation" moment, will allow the people of Scotland to decide whether they want another vote on independence.
The party's election manifesto will include a list of possible events which the party feels would warrant calling another referendum, such as the United Kingdom voting to leave the EU in 2017 against the wishes of Scotland.
But the list of "triggers" that could prompt another poll by 2021 has been criticized by opposing parties, who say the SNP is threatening "uncertainty and division."
"Our manifesto will set out what we consider around the circumstances in which, and the possible timescale in which a second referendum might be appropriate," the SNP leader told the Sunday Herald.
"It will then be down to the people to accept whether they vote for that manifesto.
"If we'd asked people just to vote for what was in their hearts we'd have won a majority. Where we lost was in the head. That's where we've got to do more and do better at convincing people."
Sturgeon told STV it will only take place if she is certain there is enough support in Scotland for independence "that means the referendum is going to be successful."
In a statement, the SNP leader said she wants to ensure that "at every single stage this is something that is driven by and decided by the people of Scotland, not by politicians."
Condemning Sturgeon's comments, Leader of the Scottish Conservatives Rush Davidson told the Financial Times the SNP is threatening renewed "uncertainty and division."
"Most people in Scotland want to put last year's referendum behind them and get on with life," she said.
In last year's referendum, Scots voted to stay in the UK by 55 percent to 45 percent, a result which Prime Minister David Cameron called "decisive."
Since then, the SNP won 56 of Scotland's 59 seats in May's general election and gained thousands of new members who are pressuring the party to seek a mandate for another referendum at the Scottish Parliament elections in May 2016.
A recent poll for STV suggested 53 percent of voters in Scotland would back independence if another referendum were to take place.
The poll also showed that 55 percent of Scots would vote for the SNP in next year's election, compared to 21 percent for Labour.
Former First Minister Alex Salmond said a second independence referendum would be "inevitable."
For Scotland to hold a legally binding referendum, it would need UK approval. But in July, Cameron said he does "not see the need" for a repeat.
However, the Scottish government disputes whether it would need Westminster's permission for a second vote.
"The people of Scotland voted to remain part of the United Kingdom last year," a Downing Street spokesperson said.
"And we will see through our commitments to give them the extra powers in the Smith Agreement."