Anti-Trade Union Bill: Tory attacks on right to strike 'like under Franco's Spain'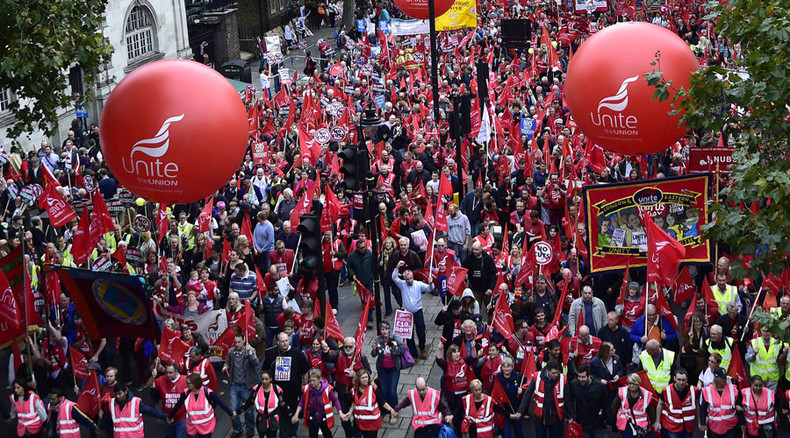 Confronted with Parliament's second reading of the Conservative government's Trade Union Bill on Monday, the leaders of organized labor have pledged to fight the plan tooth and nail.
The controversial bill, which seeks to limit trade unions' ability to organize legal strikes, is being championed by Conservative business secretary Sajid Javid and will have its second reading Monday afternoon.
The bill will include legislation that requires a minimum of 50 percent of union members to vote yes in strike ballots before action can take place.
It would also introduce fines of up to £20,000 for unions whose members do not wear identifying armbands when picketing and would allow employers to use strike-breaking temporary workers.
Javid's stated aim in pursuing the bill is to stop workers making "endless threats" of strikes at the expense of "hardworking people."
He opened the debate by conceding that "since the industrial revolution trades unions have delivered many advances."
Acknowledging unions helped his own father face down racist employment policies when he settled in the UK, he said "the heart of this is all about democracy."
Tory Trades Union Bill would outlaw strikes and take UK back 100 years. I hope some Tory MPs can see sense and help defeat it

— Jenny Rathbone (@JennyRathbone) September 14, 2015
"Despite what you may have reading in some reports this is not a declaration of war on the unions. It is simply the latest stage in the long journey of modernization and reform."
He said: "MPs were insulated from the consequences of strike action. They have secure jobs where we get paid whether we make it into the office or not."
This, he argued, was not the case for the low-paid restraint worker commuting to work but caught in a strike, for example.
Angela Eagle, newly appointed shadow business secretary, said she was "dismayed that we have a government which believes in attacking trade unions rather than working with them."
"It saddens me beyond words that we are here today dealing with the most significant sustained attack on trade unionists in thirty years."
Asked if she had a message for frustrated commuters, Eagle said: "My message is that the mayor should start doing his job."
"I would like to live in a world where the party opposite did not have this kind of blood lust for trade unions, but we are not there yet," she added.
Buoyed by the election of socialist Jeremy Corbyn as Labour party leader on Saturday, however, unions have pledge to fight the bill.
At the week-long Trades Union Congress (TUC) annual conference, which began Sunday, general secretary Frances O'Grady is expected to argue that while "nobody would deny that strikes can be inconvenient" the right to take action to defend wages and conditions is "fundamental."
"The public are with us," she will argue. "Because that's exactly what this government is doing. Attacking the very principle of the right to strike. This bill threatens the basic right to strike."
O'Grady added: "It will allow employers to bus in agency temps to break strikes and will bring in big new restrictions on picketing and protests during a strike, including unions having to tell the police and employers what they will post on Facebook or Twitter two weeks in advance."
Dennis Skinner says that all unions have opposed the Trades Union Bill "get rid of it!"

— Richard Blogger (@richardblogger) September 14, 2015
Perhaps surprisingly, the bill also faces opposition from within the Conservative party's ranks.
On Sunday, Tory MP David Davis compared parts of the bill to measures once taken by the Spanish fascist regime of General Franco, which attacked workers' rights over its four decades in power from the 1930s to the 1970s.
While Davis agreed with much of the bill, he opposed measures such as forcing picketing workers to report to the police.
"I agree with most of the trade union bill. I think it's very sensible … but there are bits of it which look OTT, like requiring pickets to give their names to the police force," Davis told the Guardian.
"What is this? This isn't Franco's Britain, this is Queen Elizabeth II's Britain," Davis said.
In an unusual move prior to the debate, John Bercow, speaker of the House of Commons, addressed the TUC conference in Brighton, becoming the first speaker to do so.
Bercow told delegates: "I am proud to be here among your number, proud to be your guest and I say that because I respect and admire the invaluable and precious work you do in promoting fairness in the workplace and the wider work you do in pursuit of greater equality across society."
Opponents of the Trade Union Bill have urged activists to converge on parliament at 6pm BST on Monday to protest. Among speakers attending the rally will be newly appointed Labour Shadow Chancellor John McDonnell.