'Threat to national security': Cameron leads Tory onslaught on Corbyn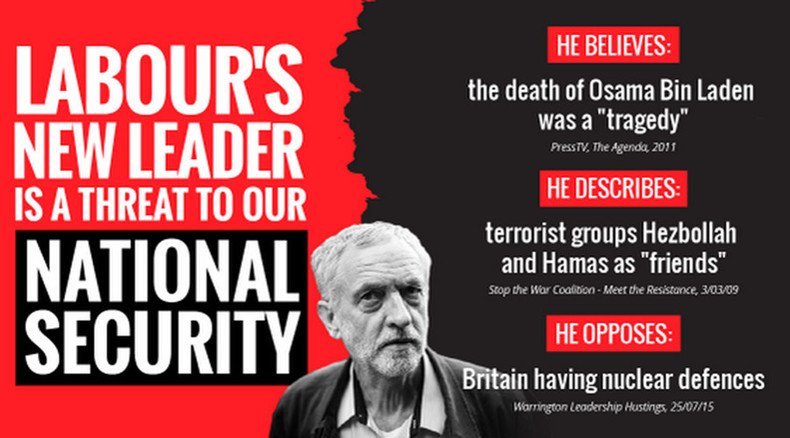 Conservative UK Prime Minister David Cameron has joined several other senior party figures in what appears to be a coordinated attack on newly-elected Labour Party leader Jeremy Corbyn, casting him as a 'danger' to the country.
READ MORE: Triumph or divide? Leaders & activists speak out on Corbyn's Labour victory
"Labour are now a serious risk to our nation's security, our economy's security and your family's security," Cameron said in a speech. He repeated the claim in a Twitter message, which he asked others to share.
The Labour Party is now a threat to our national security, our economic security and your family's security.

— David Cameron (@David_Cameron) September 13, 2015
"Whether it's weakening our defences, raising taxes on jobs and earnings, racking up more debt and welfare or driving up the cost of living by printing money – Jeremy Corbyn's Labour Party will hurt working people," Cameron claimed.
In contrast to Corbyn, who he characterized as a loose cannon, Cameron promised the Tories would "deliver stability, security and opportunity for working people."

The message was an almost verbatim repetition of soundbites given to the media by UK Defense Secretary Michael Fallon and employment minister Priti Patel, as well as dozens of other MPs.
Labour has taken leave of its senses putting our economy, national security and future of ordinary working folk in peril.

— Anna Soubry MP (@Anna_Soubry) September 12, 2015
Corbyn's election a key moment in British politics. He poses a far greater risk to our security than any other Labour leader in my lifetime

— Gavin Barwell MP (@GavinBarwellMP) September 12, 2015
After spending over three decades as a marginalized left-wing backbencher, Corbyn catapulted to the leadership of the Labour Party on Saturday, winning nearly 60 percent of the votes of party and union members, as well as of those who paid £3 ($4.60) to vote in the election.

Corbyn's initial policy proposals, which include not renewing the Trident nuclear deterrent, potentially exiting NATO, and nationalizing key public services, have not been countenanced by mainstream politicians of any stripe for more than a generation. These, combined with his scruffy, sincere and ascetic demeanor, have presented Conservatives with an unusual political opponent.
READ MORE: NATO, refugees, Brexit: Newly-elected Labour leader Jeremy Corbyn in best RT interviews and more
"We are entering uncharted waters," one unnamed Cabinet minister told the Telegraph. "We can't just take him for granted, laugh at his extreme policies and assume we'll win. Voters won't like that."

In the first few hours following his coronation, Tories attempted a delineated approach – painting him as a friendly front for a misguided and menacing political force.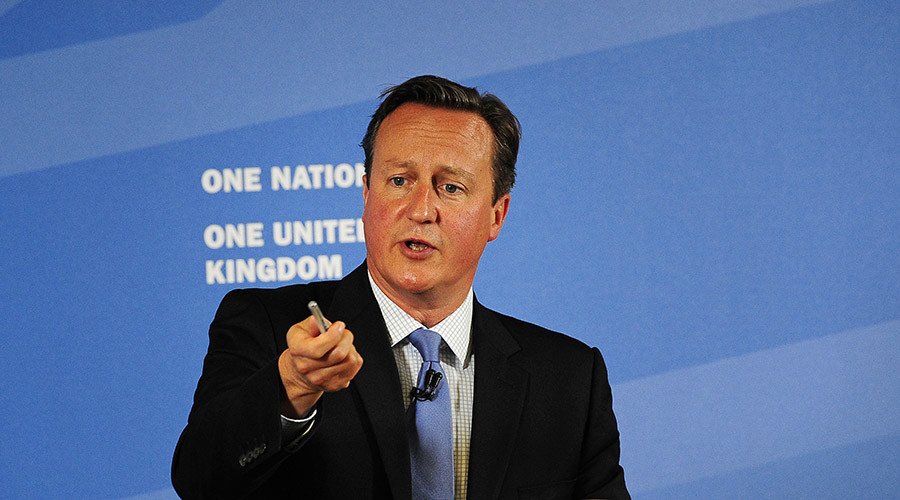 "Jeremy Corbyn, in his manner, is one of the most polite, straightforward, indeed charming of people," justice minister Michael Gove said on a BBC discussion program on Sunday. "But there are some people behind him who do have a tradition in politics which is very different to Jeremy Corbyn's own humane tradition. And I do worry, as we saw even in the last parliament with organisations like UK Uncut, that there are some people who want to bring protest on to the street."

To reinforce the message, Conservatives have produced a poster bearing the label 'Threat to National Security,' reminding their supporters of Corbyn's reference to Osama bin Laden's assassination as a "tragedy" on Iranian TV, as well as his offer to provide a platform for Hamas and Hezbollah, to whom he has allegedly referred as "friends."
Labour has been quick to strike back, with one MP, Chi Onwurah, claiming the Tories are "weaponising the politics of defence while cutting our actual defence." Another deputy, Graham Allen, alleged the Conservatives are "devaluing every future occasion they use this phrase."
Meanwhile, UK Twitter users overwhelmingly responded to Cameron's post and other similar Conservative tweets with disgust and irritation, lashing out at the Prime Minister and Tories in replies, pointing out their failed social policies. Some wondered if the wave of "scaremongering" was due to the Conservatives being "in panic mode" after Corbyn's election.
Can't get over Cameron's tweet. Really does sound like the stuff the Ministry of Truth was coming out with in 1984.

— Cait (@CaitTweddle) September 13, 2015
Others simply trolled Cameron; a number of people asked if he was in fact drunk-tweeting, while a rare, rather polite, reply suggested the Tory leader should have instead posted congratulations to his opponents.
@David_Cameron how about a tweet to congratulate Corbyn and Watson and wishing them all the best rather than scaremongering Brian, Exeter

— Brian Pilton (@BrianPilton) September 13, 2015
As for Corbyn, his strategy has been to ignore the jibes and continue as if he is still campaigning, giving well-received speeches at a rally in support of refugees and a mental health clinic. He is next expected to appear alongside former Greek finance minister Yannis Varoufakis at a demonstration on Monday.
You can share this story on social media: