Triumph or divide? Leaders & activists speak out on Corbyn's Labour victory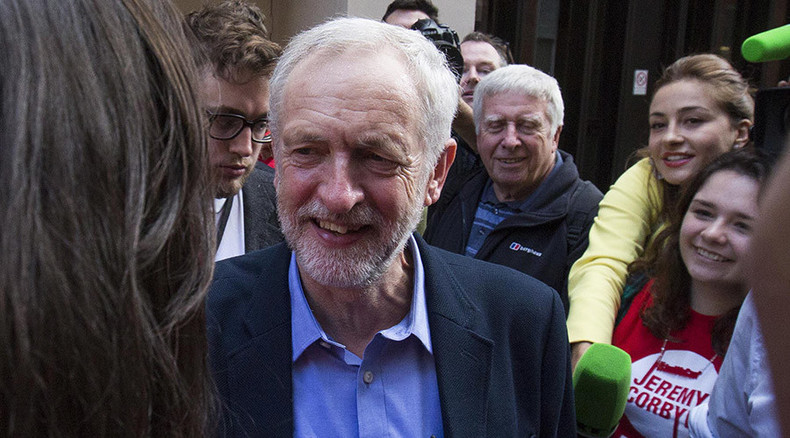 Along with words of support and congratulations after his landslide victory, Jeremy Corbyn, the newly elected Labour party leader, has recieved a wave of criticism from his colleagues and critics.
Corbyn garnered the majority of Labour votes on Saturday, grabbing victory in his party's election and receiving a surge of enthusiasm and support from politicians, as well as anti-war and human rights activists.
'New hope against Tory austerity'
Argentina's President Cristina Fernandez de Kirchner was among the first offering congratulations to Corbyn. "Jeremy Corbyn is a great friend of Latin America and shares, in solidarity, our demands for equality and political sovereignty," she said in a statement on Friday.

Scotland's First Minister, Nicola Sturgeon, congratulated Corbyn as well, adding that she hopes the two sides "can work constructively in a progressive alliance against Tory austerity."
The 66-year-old has widely opposed the austerity policy implemented by the current Tory government. He has proposed "quantitative easing for people" to fund infrastructure, rather than banks.
"He's standing for what is needed now in Britain. We had an era of consensus politics, which is imposition by the rich and superrich international cartels to suppress the living standards of ordinary people. We've got a banking crisis and ordinary people are being blamed," Jeremy Corbyn's brother Piers told RT.
"And now we've got austerity to attack living standards of ordinary people. We can now stand up to austerity. Jeremy is standing up to austerity and standing for accountable policies and against the spin doctors who do not represent working people. That is why he has got massive support," he added.
Lynsey German, governor of the Stop the War coalition, told RT that Corbyn, who has been an MP for over three decades, "is much more popular in the country than what we've been told by his opponents – by the Tory government."
'Serious risk to UK's security'
Meanwhile, the conservatives have bashed his victory with harsh rhetoric, claiming he poses a "risk" to the country's economy and defense.

"This election shows that Labour now is a serious risk to our national security, to our economic security and to the security of your family," Conservative Defence Secretary Michael Fallon told BBC on Saturday.
Corbyn has also been criticized by members of his own Labour party. One of his most persistent critics has been former Prime Minister Tony Blair.

Blair, who actually received a lower percentage of the vote in 1994 when he was elected to head the party, has compared Corbyn with Donald Trump, the GOP aspirant to the Republican Party's nomination for the next US presidential election.
"The Corbyn thing is part of a trend. So Donald Trump leads the field of Republican candidates … despite remarks about women and Mexicans that you might think would be a disqualification in a nation where half the voters are women and Latinos," Blair wrote in an opinion piece in the Observer in August.

In the same article, Blair said that Corbyn's politics were "like Alice in Wonderland." Meanwhile, in July, he even suggested that people whose hearts were with Corbyn should "get a transplant".
Corbyn reacted to Blair's 'transplant' comments by saying that it is "very unfortunate that people use these kind of remarks."
'Speaks What he Believes'
Jonathan Fryer, a writer and broadcaster, told RT that Corbyn refuses to engage in political mudslinging, which increases his popularity among the people, who are tired of it.
"He totally refused to enter all the mudslinging that was going on around him. The British public, particularly the younger members, are fed up of seeing politicians throwing mud at each other and calling each other names."

"He is a man who speaks what he believes, he is very calm in the way he delivers his speeches and a very reasonable and rational man," he said.
'Bitterly Divided Labour'
While the election is a major step forward for Corbyn, there have been speculations that his victory could seriously divide the Labour party.

"The reality today is that, at a time when the country needs strong opposition to the Tories, Jeremy Corbyn leads a deeply, and very bitterly, divided party," Sturgeon said on Saturday.
The shadow education secretary, Tristram Hunt, who opposed Corbyn's candidacy for the Labour party's top spot, said he will not stay in the Shadow Cabinet under him.

"I will not seek to be part of the front bench. It is important to be honest about it – I have substantial political differences with Jeremy," he told the Press Association on Saturday.
Rachel Reeves, the shadow work and pensions secretary, also said after Corbyn's victory on Saturday that she would quit Labour's frontbench in the near future.
'Will an anti-NATO Leader Survive in the UK?'
Wikileaks founder Julian Assange has previously voiced concerns about Corbyn's ability to "survive" as the head of the official Tory opposition in Westminster because of the Labour leader's harsh anti-NATO stance.

"I have thought about this, whether he can survive in the Labour leadership position, taking his historically quite critical line in relation to the US-UK relationship," Assange told RT UK.
Assange cited a cable that he said had been sent from the US Ambassador to the UK to Washington after a meeting with then-Secretary of State for Foreign Affairs William Hague. Hague was quoted as saying: "Whoever enters 10 Downing Street as a Prime Minister soon learns the essential nature of the relationship with America… We want a pro-American regime. We need it, the world needs it."

"Corbyn is not speaking like this," Assange pointed out, adding that the US "are not fools and expect payback on these promises."
As a first step in his new government post, on Saturday Corbyn invited the public to submit questions for him to pose to the Prime Minister. "When I stand at the dispatch box for Prime Minister's Questions on Wednesday, I want to be your voice," he said in his email. This is seen by many as Corbyn's first test as the party's new leader.
You can share this story on social media: