Cherie Blair lobbied Hillary Clinton on behalf of Qatari royal family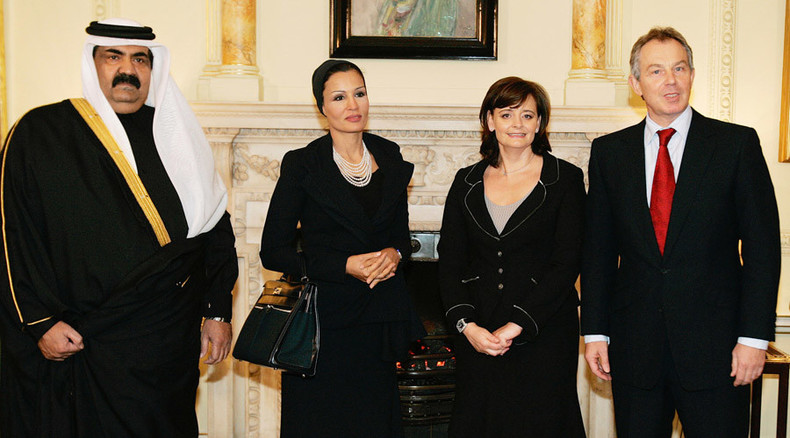 Cherie Blair, wife of former Prime Minister Tony Blair, helped arrange private meetings between members of the Qatari royal family and Hilary Clinton while she served as US Secretary of State.
Blair contacted Clinton on behalf of several members of the Qatari royal family in 2009 and 2010, according to emails released from Clinton's personal email account.
The prominent British lawyer tried to broker a deal to clean up the 2010 Deepwater Horizon oil spill in the Gulf of Mexico and said the royal family wanted to promote US-Qatari cooperation.
While the emails show no wrongdoing between the two women, they demonstrate the lengths to which Blair went to promote her Qatari friends in the US.
At this point, Tony Blair was Envoy to the Middle East Quartet tasked with restarting the stalled peace process between Israel and Palestine.
Blair's emails suggest she had a close relationship with the Qatari royal family at the time, one of the most conservative ruling families in the region.
Blair helped broker a meeting between then Secretary of State Clinton and the Crown Prince of Qatar in June 2010.
She told Clinton that Prince Tamim Bin Hamad Bin Khalifa Al-Thani wished to discuss food security and stronger ties with the US. Blair also said the prince suggested they could help with the "oil spill problem," referring to the 2010 BP Deepwater Horizon disaster.
"Sheikha Mosah's son is the Crown Prince and she is keen that he starts to build a wider international profile," Blair wrote.
Tamim, who is now Emir of Qatar following his father's abdication, had been appointed to lead a government program researching Qatar's food security.
He "would love to meet with you in person to discuss this," Blair said. "He is keen to talk more generally about US/Qatari co-operation and even suggested they could help out with the oil spill problem."
When Clinton agreed to meet the Crown Prince, Blair asked for "a telephone number the Qatar Crown Prince can ring you on … Alternatively I can get his personal phone number for you." Clinton called Tamim on July 7 that year, according to her schedule.
Blair first reached out to Clinton in 2009, when she began a series of emails urging the Secretary of State to meet with one of Qatar's most powerful women, Sheikha Mozah, the second wife of the then Emir.
"Sheika Mozah has approached me privately saying they are keen to get their relationship with the USA on a more positive footing and she was hoping for a 'woman to woman' private meeting with you. She is happy to come to Washington if you could make some time available," Blair wrote.
Clinton replied, nine days later: "Cherie – So sorry I've been slow in responding but I'm very interested in talking."
The two discussed a suitable date to meet, and Clinton eventually agreed to "follow up."
Blair responded enthusiastically: "Great. All the best to you it's fantastic to see you doing so well and when I see what a difference you are making it reminds me why politics is too important to be left to the bad people."
Sheikha Mozah met Clinton in September 2010, after which Clinton emailed Blair to apologize for missing her during a European trip.
Blair's office said she had a relationship with Mozah for "a number of years," as they both share an interest in disability issues.
"As the email also makes clear, she was merely acting as a conduit – on a woman to woman basis – between Sheikha Mozah and Hillary Clinton," the office adds.
The e-mails have been released from Clinton's personal account as part of an ongoing investigation by the Department of Justice. Clinton has come under fire for not using a secure government email system during her tenure as Secretary of State.
Under a court order, batches of Clinton's emails have been published monthly since May. To date, she has turned over some 55,000 pages of emails to the State Department, which is currently reviewing and releasing them. The largest batch was released on September 2.
LISTEN MORE: