Cameron to urge military action against ISIS in Syria, UK to accept 15k refugees – report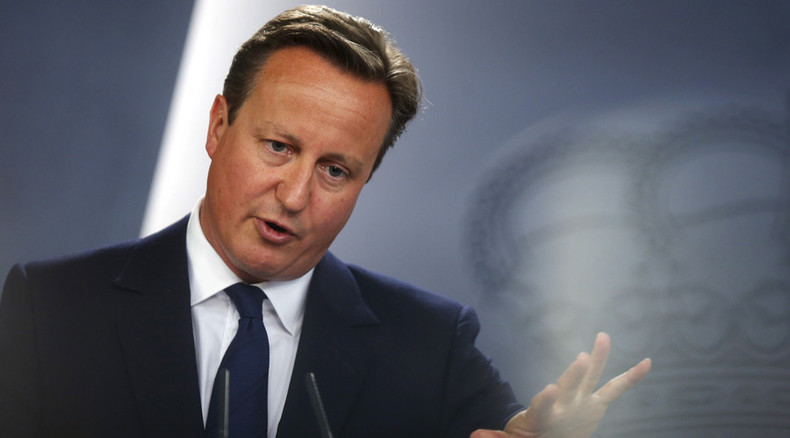 British Prime Minister David Cameron is pressing for military strikes against Islamic State in Syria within a month, according to senior sources. The leader is also reportedly prepared to accept 15,000 refugees from the war-torn nation.
Senior officials told the Sunday Times that Cameron has ordered aides to devise a plan to tackle the migrant crisis.
That plan includes persuading Labour MPs to support airstrikes in Syria in a House of Commons vote in October.
Chancellor George Osborne seemed to indicate the government is indeed planning military action in Syria.
"We've got to defeat these criminal gangs who trade in human misery and risk people's lives and kill people," he said. "You've got to deal with the problem at source, which is this evil Assad regime and the [ISIS] terrorists."
Cameron came under pressure to order airstrikes on Saturday night, with former Defence Secretary Liam Fox saying: "Our response is inadequate. The policy of attacking ISIS in Iraq but not in Syria is patently absurd."
British "political hypocrisy" and the country's interference in Syria's affairs was condemned by Syria's foreign ministry, Syrian Arab News Agency (SANA) reported on Sunday. Damascus has sent two letters to the UN, accusing the British government of "colonialist experience" and supporting terrorist organizations in Syria.
Tory whips have reportedly told Cameron that enough Labour MPs may now be prepared to vote for military action, offsetting the 30 Conservative members who oppose it.
They believe that if Jeremy Corbyn, who is opposed to military action, wins the Labour leadership next weekend, the party's moderate may be prepared to go against their leader to make a point. Labour voted against airstrikes in Syria two years ago.
According to a new YouGov poll, the majority of the public – 52 percent – would support a greater role for UK forces in ending the civil war in Syria.
Cameron has also ordered the National Crime Agency and GCHQ to launch a new offensive against people traffickers. The spy agency is gathering information on the gangs' leadership, and crime agency police are being deployed to the Mediterranean.
Britain to accept 15,000 refugees
The plan drawn up by Cameron's government would also include expanding the country's vulnerable persons relocation program.
According to sources, the prime minister's "current thinking" is that the country will accept around 15,000 people from refugee camps on the Syrian border. Until now, it had been suggested that the UK would take between 4,000 and 10,000 refugees, but a senior official said 10,000 was now the "minimum not the maximum."
But the plan to increase the number of refugees being allowed into the UK has sparked concern from Home Secretary Theresa May, who said the move will increase the "pull factors" bringing people to the EU. Other Conservatives have said that sentiment is "shared by all."
May's comment has been echoed by Andrew Bridgen, a Tory MP for North West Leicestershire, who said that accepting more migrants would encourage others to make the dangerous crossing into Europe.
"We are in danger of doing the wrong thing for all the right reasons," he said.
Britain will not be joining an EU quota system, which will be announced this week by European Commission President Jean-Claude Juncker, though one source said the UK "will show that we are pulling our weight."
Later on Sunday, Osborne is expected to explain how a "root-and-branch" review of aid spending will divert money to the refugee crisis. The review would mean that future cash would be taken from a fund aimed at combating poverty in Africa. Britain has so far contributed £1billion (US$1.5 billion) to helping those who have fled Syria.
MPs will discuss the refugee crisis on Wednesday, in a debate called by the Scottish National Party.
More than 350,000 migrants have crossed into the EU so far 2015, in the worst refugee crisis since World War II.
LISTEN MORE:
You can share this story on social media: