Crashed Shoreham Airshow jet was in 'good working order,' report finds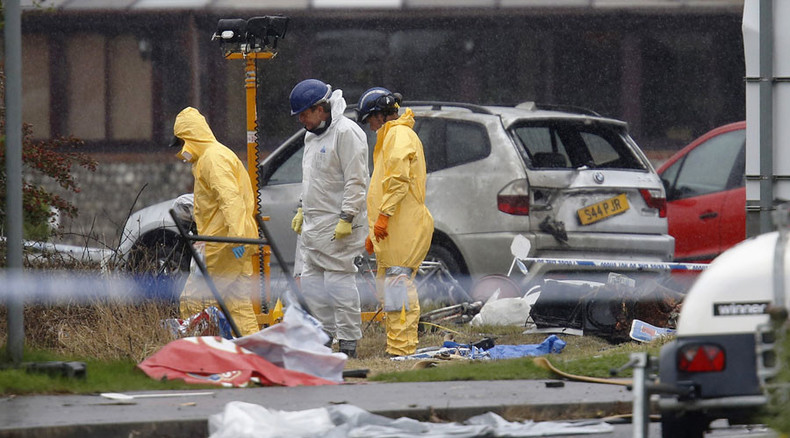 Footage from cockpit cameras in the vintage jet involved in the Shoreham Airshow disaster reveal the aircraft appeared to be in "good working order."
An initial report by the Air Accidents Investigation Branch (AAIB) reported the Hawker Hunter jet "appeared to be responding to the pilot's control inputs," just moments before the tragedy.

Eleven people were killed when the plane crashed onto the A27 in West Sussex in southeast England during the Shoreham Airshow on August 22.
The pilot, Andy Hill, was pulled alive from the wreckage of his cockpit and is now in a specialist hospital for treatment.

The jet failed to pull out of a loop stunt before crashing and exploding in a fireball.
According to the AAIB, two "image recording cameras" were mounted within the cockpit.

One camera was mounted at the base of the windscreen looking over the nose. The other camera was locked between the two seats, giving a partial view of the pilot, instrument panel, cockpit canopy and windscreen.

The preliminary report acknowledged it has received a "large amount" of video and photographs of the aircraft from its flight during the airshow.
Investigators will analyze these images in an attempt to determine the jet's maneuvers, flight path and speed.

The AAIB conducted a pre-flight inspection of the jet prior to its take off from North Weald Airfield Essex on the day of the airshow.

It reported no defects and added: "The pilot was described as being in good spirits and looking forward to the flight."
An inquest into the disaster was launched on Wednesday by West Sussex Coroner Penelope Schofield.

Families of those killed were invited to County Hall North in Horsham, Sussex, for an official naming of the dead.

David Wildridge, who had flown at the same airshow earlier in the display, expressed disbelief at how the crash took place.

"He is a highly experienced pilot, well-known and well-loved. He is highly professional and it is totally unusual for this to happen. He was a Harrier pilot in the Air Force. They are the top RAF (Royal Air Force) pilots – the best of the best," he told the Telegraph.