Orthodox Jewish school teaches 3yo children 'non-Jews are evil'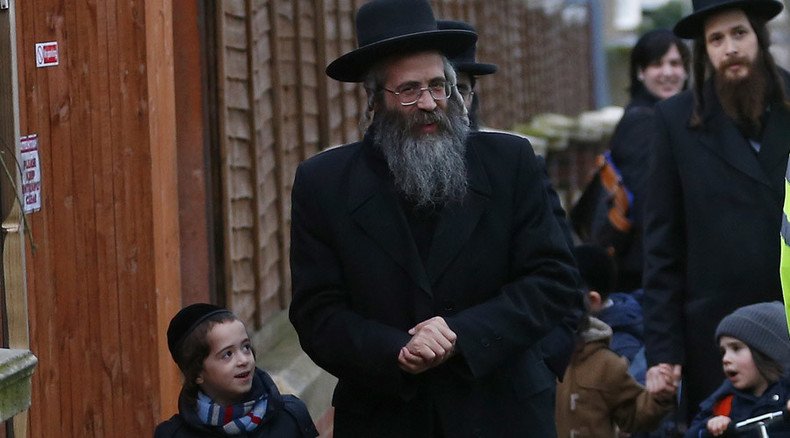 Ultra-Orthodox Jewish schoolchildren as young as three are being taught that "non-Jews" are evil and want to kill Jewish people, an anonymous whistleblower has revealed.
According to the Independent, worksheets that allude to the horrors of the Holocaust are being handed out to three and four year old schoolchildren at the Beis Rochel boys' school in Stamford Hill, North London.
In the documents, non-Jews are referred to as "evil goyim." In Yiddish, the term "goyim" means someone who is not Jewish. Nazi's are also referred to as "goyim."
The worksheet asks questions related to the holiday of 21 Kislev, observed by Satmer Jews as the day its founder and holy Rebbe, Rabbi Yoel Teitelbaum, escaped the Nazis.
READ MORE: Neo-Nazis plan rally in Liverpool, prompting anti-fascists to raise donations for migrants
Speaking to the Independent, the source said one question on the sheet asks: "What have the evil goyim done with the synagogues and cheders?" The answer in the completed worksheet reads: "Burned them."
Another question asks: "What did the goyim want to do with all the Jews?" The correct worksheet answer is: "Kill them."
The worksheet "doesn't explicitly refer to the Holocaust" but it teaches young children to be "very afraid" and treat non-Jews "very suspiciously because of what they did to us in the past," the source told the paper.
'Extremism, hatred and fear'
"It's not a history lesson – you can't say that. It's a parable that is actively teaching the children extremism, hatred and fear for the outside world," the source said.
"It's not uncommon to be taught non-Jewish people are evil in ultra-Orthodox Jewish schools. It is part of the prayers, teaching, the whole ethos," former Beis Rochel girls' teacher Emily Green told the Independent.
READ MORE: Holocaust denial, anti-Semitism claims 'ludicrous' - Corbyn
"Psychologically, you become so afraid of the world out there after being taught how dangerous and bad and evil non-Jews are, that it makes it harder to leave," she said.
A spokesperson for the Beis Rochel School, which accommodates 1,400 students, apologized for any offence, saying the worksheets would be amended.
"The language we used was not in any way intended to cause offence. Now this has been brought to our attention, we will endeavor to use more precise language in the future," they said.
Earlier this year, the orthodox school had an emergency Ofsted inspection. Inspectors said it was "unclean and in a poor state of repair." The inspection also found the school ignored fire safety recommendations and had sections of its floors missing.
You can share this story on social media: