Neo-Nazis plan rally in Liverpool, prompting anti-fascists to raise donations for migrants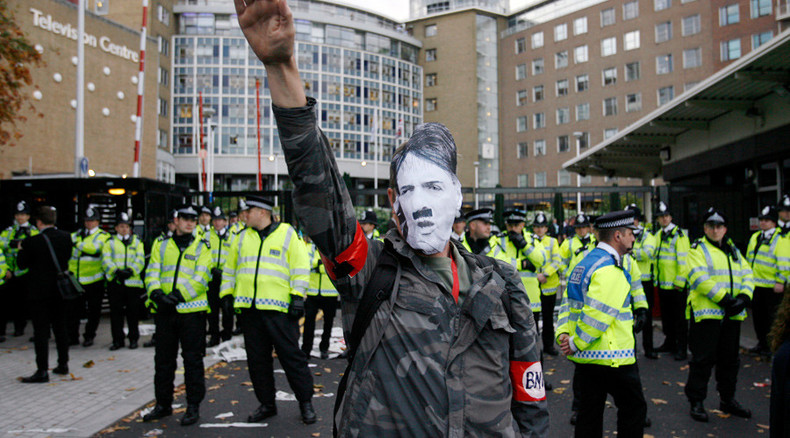 A Neo-Nazi group has warned that Liverpool "will go up in flames" if their so-called "White Man March" scheduled for Saturday is canceled.
The march, organized by white supremacists National Action, is due to begin at noon, with attendees expected to meet certain guidelines, such as the "NA Black Bloc Dress Code."
The event flyer says anonymity among demonstrators is "essential" and everyone must wear all-black, sunglasses, a facemask and a heavy-duty belt.
It also urges participants to bring cash and write an emergency phone number on their body.
Thousands of Liverpool residents have condemned the "racist," anti-Semitic march on social media, calling for it to be canceled. Over 2,600 people have signed a petition calling for a ban.
Meanwhile, the Refugee Council has planned to use the "appalling" march as an opportunity for "decent people" to raise money for migrants.
The charity has set up a campaign to make the neo-Nazi protestors "march against themselves."
The page, on the donations website Justgiving, says: "We intend to make them aware of the money raised by their march. All money raised will be donated to the Refugee Council."
But National Action says it "won't be stopped" and warned a ban would lead to race riots.
Speaking about the event on Twitter, the neo-Nazi group said: "We do not stand to oppose the color of a man's skin, we stand to oppose a sick Jewish ideological system."
Local Facebook users reacted strongly to the planned march, but were divided about whether to ban it or not.
One user branded the march "disgusting," adding "they're not welcome, wanted or supported."
But another user said: "This is a free country, let them have their march and everyone just laugh or ignore them."
In a threatening letter to the Liverpool Mayor Joe Anderson, a National Action spokesperson said if the march is stopped "your city will go up in flames."
They claimed it would "fairly easy" to spark a race riot, as they would get "a few n*****s beaten up, a few cars set on fire, a few shops smashed and your own non-whites will erupt like a volcano."
"But I'm sure this won't happen if you assist us and let us have our event," they added.
Anderson has called for a change in the law to allow him to cancel the event, but Home Secretary Theresa May is the only person with the powers to do so.
"These people are trying to blackmail me and the people of Liverpool into allowing them to stage a racist march which no-one here wants," Mayor Anderson told the Liverpool Echo.
Liverpool is "proud" of its diverse racial mix and "I am appalled by this group," he said.
"I will defend the right to freedom of speech until the day I die, but there is no place for anyone who seeks to incite racial hatred and violence," Anderson added.
"I have asked the police to halt the march and I am calling on the Home Secretary to allow me to forbid it before it even starts."
May "doesn't know this city as well as I do," the mayor added.
The Home Secretary is reportedly aware of the group's threats and is liaising with Merseyside Police.
According to the event organizers, 150 people will attend the march, including some from Russia, France and Germany.