UK mulls X-ray machines, body scanners at rail stations after France attack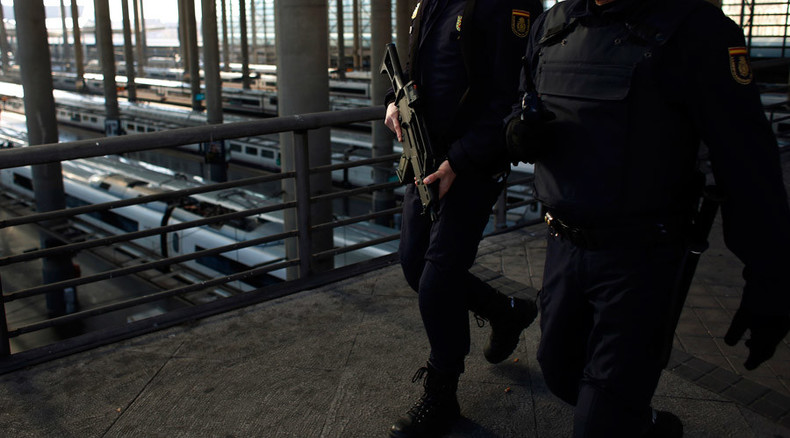 Airport-style security could be introduced on British trains under plans being considered by the European Union following last week's terrorist attack in France.
Train operators could be made to install CCTV cameras in every carriage and stations introduce X-ray machines for high-speed services as part of increased security in the wake of the Arras attack.
The European Union is drawing up plans to create EU-wide rules on railway security for the first time, having previously introduced common rules on air and sea travel in the wake of 9/11.

Ayoub El Khazzani entered the first-class section of the Amsterdam to Paris high-speed Thalys train last Friday with a Kalashnikov rifle, 270 rounds of ammunition, a Luger handgun and a bottle of petrol.

A massacre was narrowly avoided when a group of passengers successfully tackled Khazzani and restrained him.
EU officials will hold a meeting on September 11 with transport security experts, including representatives from the UK Home Office and Department for Transport, in response to the attack.
They will discuss the best way to handle future terror incidents and whether rail security should more closely resemble airport security. EU transport ministers will discuss their proposals in October.

An EU official said there would be a split of opinion between introducing systematic security checks, which are in place in airports, and random checks.

"Systematic screening of bags and passengers is an option, but they will want to first talk to the industry to see how practical that is," they said.

"Perhaps a compromise is that the equipment is in place, and it is would be used on a more random basis. It wouldn't have to be that every single passenger is controlled on every single train. In the first instance you need to have the equipment in place."

Other proposals include "rail marshals" to ride trains and installing CCTV in every carriage.

A source told the Telegraph: "[CCTV] doesn't prevent an incident, but it would certainly help a train manager if he can see all 18 carriages and knows how to react when an incident takes place."
Another proposal is for wall scanners that can detect weapons on people as they move through tunnels in underground subways.

Britain currently advocates the collection and sharing of rail passenger data, known as PNR, as way to boost transport security across Europe.

EU sources told the Telegraph there are no proposals to collect and share such data on rail travelers with police Europe-wide, although some European rail companies, including Thalys, do collect PNR.

Increased security measures will be resisted by train operators, especially in France where 5 million people ride trains each day.
SNCF chief Guillaume Pepy has outright rejected the idea of airport-style security in train stations.

The railway executive said: "There are 20 times more train passengers in France than there are air passengers. So whatever security there is now at airports, you would have to multiply it by 20 in stations. It is not a realistic proposition."