Edward VII statue vandalized with raw meat, fears of anti-Semitic attack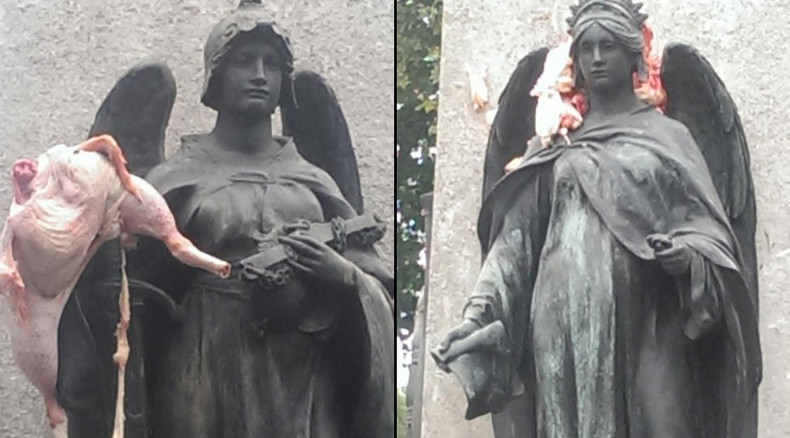 Vandals have covered a Jewish-funded statue in East London with raw meat in a suspected anti-Semitic attack.
The meat was discovered early on Friday morning by a passer-by at the Edward VII Drinking Fountain on Whitechapel Road, east London.
Designed by William Silver Frith in the early 20th century, the statue commemorates King Edward VII (1841-1910). It was paid for by the Jewish community of Tower Hamlets.
An inscription under the statue reads: "In grateful and loyal memory of Edward VII, Rex et Imperator, Erected by subscriptions raised by Jewish inhabitants of East London, 1911."
Local resident Lauren Justice told the Evening Standard she noticed the vandalism on her way to work.
"I was just coming into Whitechapel for work this morning – usually I do not see the memorial because it is concealed by market stalls, but today it was just covered in meat.
"I just think it is disgusting. It is a memorial. I do not know if they think it is funny or what, but it cannot be allowed to stay up like that. I find it offensive," she added.
The incident was reported to local police, and officers were sent to clean up the fountain.
The vandalism comes amid rising right-wing sentiment.
On Saturday neo-Nazis in Manchester are planning to stage a white supremacist demonstration.
Police said they are ready to "facilitate a peaceful protest" in the city.
The march, held by far-right group White Pride, is the second organized by the group. The last demonstration took place in March, when two people were arrested following clashes between the group and anti-fascists.
The demonstration comes only a week after a nao-Nazi protest in Liverpool was called off due to violent clashes between demonstrators and anti-fasist protesters.
"We understand that protests such as these can be incredibly emotional involving two opposing sides with polarized views. They can present difficult challenges for all involved and we will do everything in our power to facilitate a peaceful protest, while remaining completely impartial," Greater Manchester Police Chief Superintendent John O'Hare said.
"We respect everyone's right to lawfully protest and officers will be working with Manchester City Council to ensure it passes peacefully and safely. Everyone has the right to free speech, but with this comes a high degree of personal responsibility and we will take positive action against anybody who abuses such an important privilege."