Secret Banksy 'Dismaland' exhibition rumored in west of England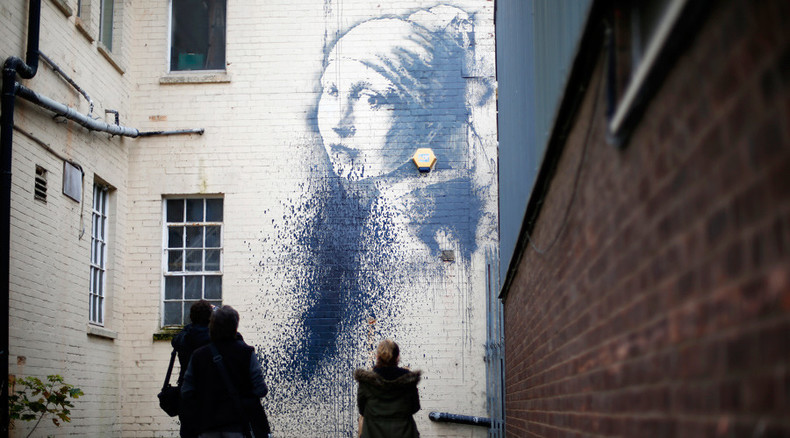 Graffiti artist Banksy may be about to open a public exhibition in the west of England after sightings of figures close to the artist and a mysterious film set raised suspicions.
The guerrilla artist, who operates anonymously, is thought to be preparing a show at a disused Tropicana site in Weston-super-Mare, which is currently closed off to the public. Authorities have told locals a Hollywood film is being shot there.
The show is rumored to be called Dismaland – a dark take on Disneyland – and it thought to be set in a rusting pink castle which has been erected in the town behind a high fence.
Local authorities, however, claim the mysterious site is being used to shoot a crime thriller called Grey Fox by Hollywood producers Atlas Entertainment.
Signs reading "Crew Notice Grey Fox Productions" have been put up around the site to deter locals from further inquiry.
Directed by Declan Whitebloom, the film is allegedly due for release in September.
Residents became suspicious when none of the actors reported to be in the film were seen around the town, and no camera crews appeared.
Locals have also spotted Holly Cushing, believed to be Banksy's manager, in the area earlier this month. Cushing has also recently set up a company called 'Dismaland' with Simon Durban, thought to be the artist's accountant.
Cushing is also an executive producer of 'Exit through the Gift Shop', a film about the graffiti artist.
Structures on the closed-off site include a derelict pink castle, a petrol tanker bent into the shape of an S and a sculpture of a horse.
Some sources claim the exhibition will be opening on Friday.
LISTEN MORE: