ISIS jihadists return to Britain to unleash terror attacks – defector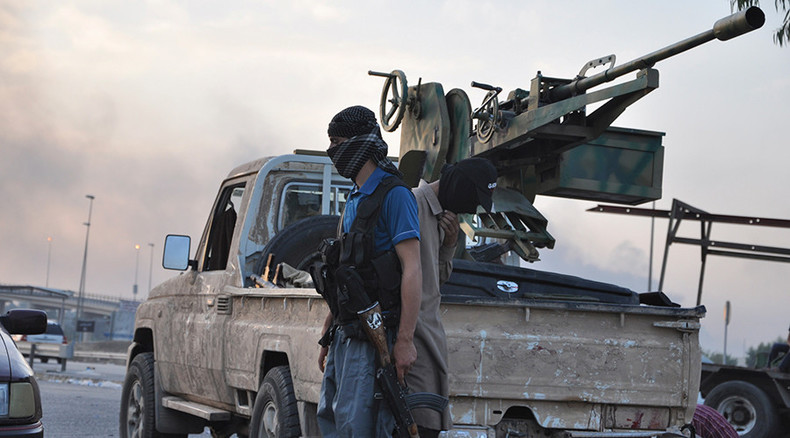 Islamic State jihadists have made their way from Syria to Britain with the aim of carrying out devastating attacks in the UK, a defector from the terror group has said.
In an exclusive documentary aired on Sky News, the anonymous individual claimed that up to four men who have spent six weeks in an Islamic State (IS, formerly ISIS/ISIL) training camp in Syria have now returned to the UK to carry out terror attacks.
"After we did the training, we joined the [IS] elite security force. We were very close to them [the foreign fighters], taking care of them. We didn't interfere in their business," he said.
"They came from everywhere. The people trained for a month and a half. Some of them went back to their countries and some stayed with us."
Two reporters for the channel pretended to be extremists for four months to get the interview. As well as interviewing the defector, they were approached by British couple Junaid Hussain and Sally Jones, who coached them on how to execute a terror attack.
There were also unsubstantiated reports that a terror attack had been planned to target Britain's Queen Victoria on Victory over Japan (VJ) Day, which falls on August 15.
Sky News reported the story to British counter-terror police, who told the Times newspaper in a statement: "It is always helpful when journalists share with us information, as Sky did in this case, that could indicate terrorist or criminal activity and we will investigate and take action where appropriate."
UK counter-extremism think tank the Quilliam Foundation published a new anti-radicalization video on YouTube with the aim of discouraging those who may be drawn to becoming extremists.
The film was reportedly released to counter the prominent extremist technique of online radicalization, where would-be jihadists are seduced by emotive conversations on social networks. The short clip depicts a recruit in a war-torn country reading a letter.
Created by video agency Verbalisation, the video is part of the Quilliam Foundation's #NotAnotherBrother campaign, which aims to highlight the effects of online radicalization.
"I'd tell you I was sorry," the letter referenced in the film says. "I'd tell you I wish I could take back every time I sent you a tweet what got all gassed up saying how the West has turned its back on us."
The letter concludes with the plea: "So please, just come home."