'Stop scapegoating immigrants!' Hundreds hit on Yarl's Wood detention center (PHOTOS, VIDEO)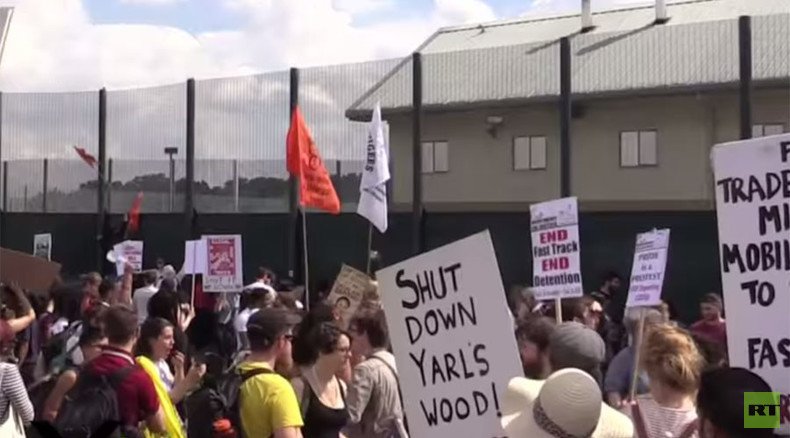 Hundreds of people have gathered at UK immigration detention center, Yarl's Wood, lobbying to shut it down. Those on the outside were supported by women detained at the center, who waved white clothes from behind the fencing.
More than 500 people, according to Ruptly video agency estimates, took part in the demonstration just outside the walls of the controversial immigration detention center Yarl's Wood, Bedfordshire, calling for its closure on Saturday.
While some of the protesters sprayed graffiti on the walls of the center, others kicked or attempted to climb the security fences. They chanted slogans such as "shut it down,""no human is illegal" and held signs reading "your blood is our blood, your fight is our fight, your victory is our victory."
READ MORE: 'Boys club' Britain leaves women vulnerable to violence, poverty & hardship – UN report
"Yarl's Wood detention center is the central battleground in the fight for the rights of women and immigrant rights in Britain. It is the site of the most consistent and sustained struggle against the racism and inhumanity of immigration detention," the Movement for Justice, which organized the mass action, said in a statement on its Facebook page.
"Our struggle is an inspiration to everyone who wants to see real action for justice and freedom and a real fight against racism, the divide-and-rule scapegoating of immigrants, and the politics of endless austerity," it added.
READ MORE: Yarl's Wood detainee reports better treatment since protests (VIDEO)
The demonstration has been the fourth since April, and it was supported by the women inside the detention center, which has been called a female prison. They wrote "SOS" on windowpanes, notes stating "we are not animals," and waved white T-shirts with pleas for help.
Most of the detainees are women or families, who come to the UK, but failed to get asylum. Despite having no criminal charges, they are being held at the center, which promises to ensure that its residents "feel that they are being heard, something that is of high priority to the staff".
READ MORE: Hunger strike: Yarl's Wood migrant detainees demand release of grieving widow
The duration of the stay at the center could be indefinite, as the UK is the only EU member that has no time limit on detention. During its 14 years of operation, it has been home to numerous hunger strikes, several deaths, and reports of sexual and racial abuse.
You can share this story on social media: