​Hunger strike: Yarl's Wood migrant detainees demand release of grieving widow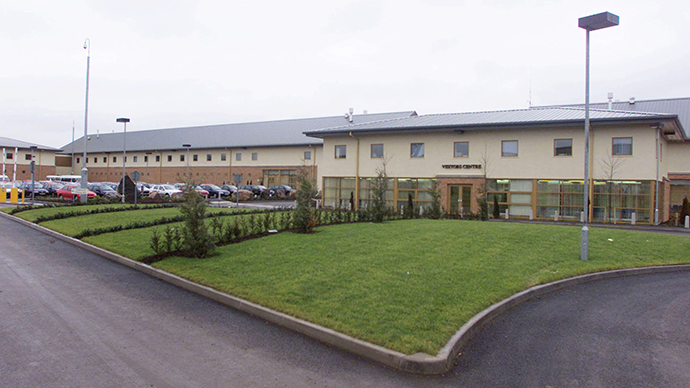 Detainees at Yarl's Wood immigration removal center have gone on hunger strike in protest at the treatment of a female inmate whose husband died there on Monday.
Dozens of detained migrants are refusing to eat until Bhavisha Ben Patel is released.
Bhavisha's husband Pinakin, 33, died inside the facility on Monday after suffering from shortness of breath. He was forced to wait 15 minutes before healthcare staff tended to him, according to the Independent.
The Patels were detained after arriving in the UK from Gujurat, India, on holiday more than two months ago.
"We planned a 10-day break, visiting family friends and a trip up to Scotland," Bhavisha told the Independent through a translator.
"I had a return ticket and all the details of my stay to show the border guards."
Bhavisha carried copies of her qualifications along with her travel plans because she wasn't sure what papers she would need to enter the UK.
Guards from the UK Border Agency interpreted this as a sign the couple intended to stay in the country and find employment.
READ MORE: 'I just wanted to die': Asylum seeker detained at Yarl's Wood speaks to RT
The Patels were refused entry and detained at Yarl's Wood immigration removal center.
Despite offering to return to India, Bhavisha says the couple was told they would be held until their case had been processed.
Bhavisha said medical staff tried to save her husband's life for "two hours."
"They tried their best for one or two hours but then they came and told us he had passed away. I have been crying ever since."
A detainee who is on hunger strike said, "On Monday nobody on our unit had lunch or dinner. Yesterday and today everybody decided to continue not to eat until she is released."
A Home Office statement said, "As is the case with any death in the immigration detention estate, the police have been informed and a full independent investigation will be conducted by the Prisons and Probation Ombudsman."
A spokesperson for Serco, the private contractor which runs the facility, described the death as "very sad," but refused to comment further until after the inquest.
Despite previous damning criticism from former detainees, Serco's contract at the detention facility was renewed by Home Secretary Theresa May for another eight years last November.
READ MORE: 'Deeply scarring': Labour vows to outlaw indefinite detention of asylum seekers
Yarl's Wood came under the spotlight last month after a Channel 4 undercover film revealed guards using offensive language to describe the detainees, most of whom are women.
In one scene, guards discuss going into women's rooms while they're changing.
One guard says he received "another" disciplinary for doing this. He jokes with his colleagues, "How about I just like tits. Sorry ... I'm addicted to the viewing of tits."
Former Yarl's Wood resident Juliet Nantambi, 35, spoke to RT about her three-month detainment in the notorious facility.
She described her experience as "horrendous" and said at one point she lost all energy and stopped eating because she "just wanted to die."
Nantambi called for the detention center to be closed, arguing there is little risk the inmates would 'abscond' into society given the limited rights they have in the UK.
"It breaks my heart to learn that they are only looking out to improve the service. It's a prison," she told RT.
READ MORE: 'Expensive, ineffective & unjust': MPs urge end to indefinite migrant detention
"Detention centers need to be closed down because they detain people indefinitely. There's no cause for that."
A group of influential MPs called for an end to the indefinite detention of migrants in a report published in early March.
The cross-party inquiry said they were shocked by the horrific testimonies of current and former inmates, some of which described suicide attempts and sexual harassment.
"Yarl's Wood is not a prison, but an immigration center which has a duty to protect the most vulnerable," Labour MP Keithz Vaz said in a parliamentary debate which followed the report's publication.
"Instead of being protected, detainees are verbally abused and poorly treated. This is not the first time that Yarl's Wood has been the subject of parliamentary criticism," Vaz, who is chair of the Home Affairs Committee, added.