Nigel Farage accused of turning Brexit campaign into UKIP front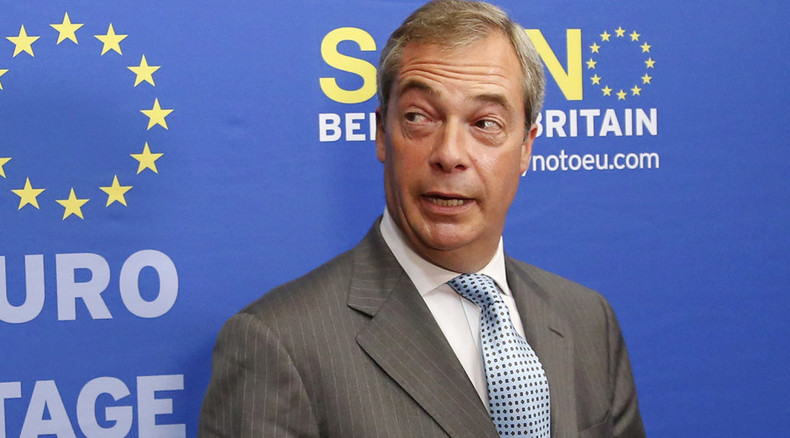 UKIP leader Nigel Farage has come under fire for creating a "blatant UKIP front operation" to ensure supporters of the party are officially designated as the main "No" campaigners in the forthcoming EU referendum.
Farage has been criticized after major party donor Arron Banks wrote to the Electoral Commission to ask that his Eurosceptic group, "The Know," be designated as the official anti-EU group.
The Electoral Commission have yet to designate the two official campaign groups, which will be given equal funding and airtime in the run-up to the referendum.

Internal UKIP emails seen by the Guardian display the links between The Know and the right-wing anti-immigration party, despite efforts by senior campaigners to distance themselves from UKIP.

The Know chief executive Liz Bliney had previously written to supporters claiming the group would not take part in the political system.

"Politics has become toxic and people simply don't trust politicians or lobby groups to tell the truth," she wrote.

However, one email reveals the party's support for The Know.

"The 'Out' campaign is gathering momentum – you will have seen the announcement this week about The Know group being built by leading businessmen," it reads.
READ MORE: 'We propose sending the army to address Calais migrant crisis' - UKIP MP

"Understand that right now, we are the campaign: we have the ground troops, the national network and the clear proposition. Invite others to work with you and cooperate on themed meetings, show stands etc, and tone down the UKIP branding if it helps others take part – but don't let them slow you down or cover you up."

The group also has the backing of many UKIP donors, the Guardian reports.

One senior Eurosceptic accused Banks, the campaign group's head of communications, and Farage of wishing to gain the funding and airtime of the officially designated "No" campaign.

"Banks and Farage want to capture official designation of the no campaign, taking the air time and money that goes with it."

"The donors and senior staff at the Banks campaign are all from UKIP while the director of communications has already said Farage is the right person to lead the 'No' campaign. It's pretty obvious what they are trying to do, it's a blatant UKIP front operation that won't fool the Electoral Commission or attract support from across the political spectrum," they told the newspaper.

A UKIP spokesman said they are willing to work with any party for the "No" cause.

"We will work with anybody to campaign to take Britain out of the EU. The Arron Banks operation has resources, imagination and vim. They are good people but they are their own bosses."

A pro-EU campaign is expected to be launched in the autumn.