Left out? Plot to topple socialist candidate Corbyn if he wins Labour leadership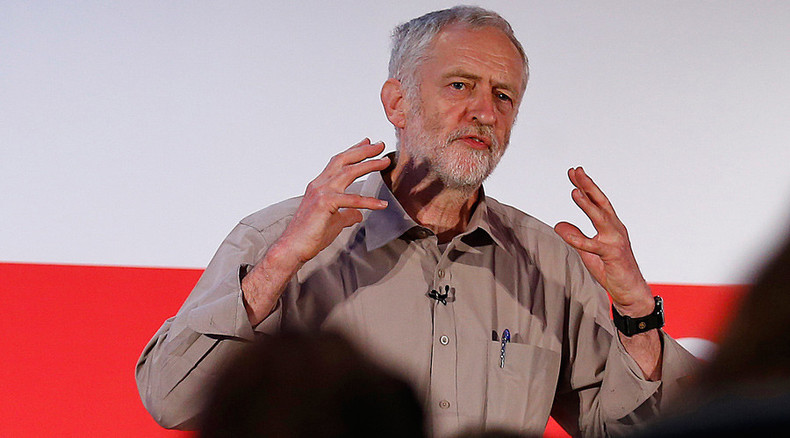 Jeremy Corbyn could face a coup among his own Labour Party ranks if he is elected leader, with senior figures expressing shock at the veteran left-winger's popularity.
Shadow Cabinet members told the Telegraph on Monday that Corbyn would never be allowed to stay as leader if he wins the leadership contest for fear he will "destroy" the party.
Several Labour MPs have also called for the leadership race to be scrapped and the election system to changed citing fears the contest has been hijacked by left-wing 'entryists'.
An anonymous senior Labour figure told the Telegraph that a coup could be launched within days of socialist Corbyn being elected leader in order to prevent an unspecified electoral "disaster."
"If he wins, we will be in massive danger of destroying ourselves as a party. We will have to decide whether he should be removed immediately, or whether it would be better to give him a year or two of being a disaster and get rid of him by 2018," the shadow cabinet minister said.
How dare left wing people get involved with #Labourleadership it's most shocking thing since doctor who fans had opinions on the new doctor.

— Andy Hearn (@AndyHearn09) July 27, 2015
If Corbyn is removed immediately, Labour could have a new leader as early as the party's annual conference in Brighton at the end of September.
A former cabinet minister under Gordon Brown called for the election to be halted citing fears the party was being "infiltrated" by left-wingers.
"I absolutely think it is a determined and deliberate attempt to infiltrate the election by powerful unions and it is a very serious threat to the democracy of the party," the senior figure told the Telegraph.
"These are not Labour Party people. I think this is a deliberate attempt to infiltrate the party and distort the basic democracy of the Labour Party."
Labour MPs Graham Stringer and John Mann have also called for the election race to be stopped.
Stringer blamed Labour's internal electoral system, which he said was "deeply flawed and should be scrapped."
Mann has said the contest is "totally out of control" and has been hijacked by "Trotskyist groups and other pressure groups."
The Socialist Party of England and Wales (previously the Militant Tendency) strongly rejected accusations published by the Daily Mail that the party is facilitating an "infiltration" of militant left-wingers into the Labour leadership contest.

According to the Daily Mail, Labour MP John Cryer claimed the Trade Union and Socialist Coalition (TUSC) – to which the Socialist Party belongs – is offering to pay the £3 voting fee for "militant supporters" to vote Corbyn.

The party said in a statement: "These statements are wholly inaccurate, but reflect the terror of the right-wing clique that dominates the Labour Party at the wave of enthusiasm Jeremy Corbyn's campaign is generating.

"This shows the huge popularity of radical and socialist ideas when they are able to gain a platform. As the Socialist Party has repeatedly pointed out working-class people are far to the left of the Labour Party," they added.
Labour leadership candidate Andy Burnham has rejected calls for the race to be halted and insisted he has seen no evidence of the contest being rigged by the far-left.
A source working on Corbyn's election campaign said it was "inconceivable" the election would be suspended.
"If that happens there would be uproar – you can't stop the contest because the wrong person is winning," the source said.
Labour's internal bickering comes as Columbia University Nobel Prize-winning economist Joseph Stiglitz told an audience in London on Sunday he was not surprised by Jeremy Corbyn's popularity in the race, adding there is a demand for a "strong anti-austerity movement."
Stiglitz said candidates like Corbyn were attracting young people who felt let down by mainstream politics.
"I am not surprised at all that there is a demand for a strong anti-austerity movement around increased concern about inequality. The promises of New Labour in the UK and of the Clintonites in the US have been a disappointment," the former World Bank economist said.
"Unfortunately the center-left parties have wimped out. They have joined in saying: 'Oh yes, we have to have a kinder version of austerity, a milder version of austerity.'
"But one of the disappointments of the eurozone, and Europe more broadly, is that you have these elections, these center-left parties get elected and they have to cave into Germany and so they then do a rhetoric that is gentler, but the outcome is not much gentler," he added.