Welfare & foreign aid hit as Osborne announces further £20bn cuts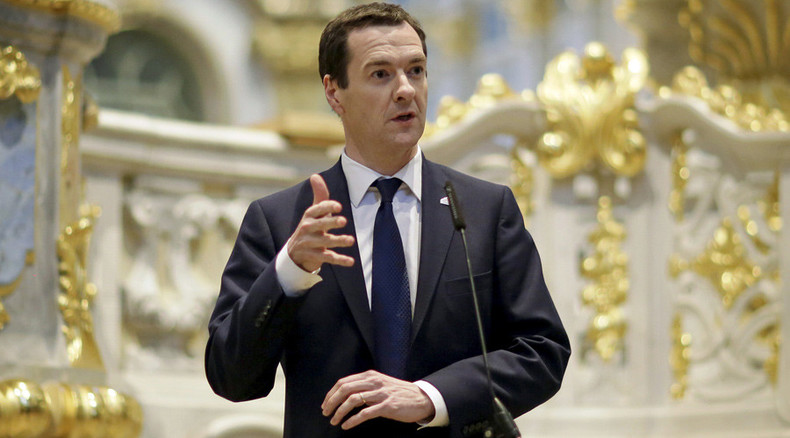 Cash-strapped Whitehall departments could be forced to slash their budgets by up to 40 percent, as Chancellor George Osborne seeks to further privatize public services and erode the welfare state.
Osborne's £20 billion worth of spending cuts planned over the next four years will be unveiled in a spending review set to be published on November 25.
Speaking in the House of Commons on Tuesday, Osborne said his "long-term economic plan" is working.
"We are building the higher-wage, lower-tax, lower-welfare economy that our country needs if it is to compete in the future and give real opportunities to working people," he said.
Osborne's move to drastically remold Britain's socio-economic landscape will include cuts to foreign aid spending, impacting a number of crisis-ridden states in the global south.
While the Conservative government will honor its pledge to allocate 0.7 percent of the state's Gross National Income (GNI) to foreign aid spending, the Treasury will reduce the resources and scope of a number of foreign aid projects.
Among the departments set to be hit are the Foreign Office and the Department of Energy and Climate Change. Both government bodies spent a total of £568 million on various projects in 2014.
Osborne's determination to recast Britain's economy was laid out in a Treasury document vowing to make tax payers' money go further.
The document instructed government departments to draw up contrasting models charting cuts of 25 and 40 percent until 2019-20. It suggested these cuts should be modeled on top of inflation.
While spending on the National Health Service (NHS), schools, foreign aid and defense has been ring-fenced, other state departments are still expected to budget more efficiently.
A controversial Tory welfare bill that will pave the way for spending cuts of £12 billion was passed in parliament on Monday, despite an impassioned Labour revolt which saw a fifth of all Labour MPs voting against it.
The Welfare Reform and Work Bill is seen by many MPs as a further assault on the welfare state. It seeks to slash tax credits, lower the welfare cap and bring in a national living wage.
Speaking on Tuesday morning, Labour MP Dianne Abbott warned innocent children and lone parents would be the primary victims of the legislation.
"330,000 children will be hit by [the] Tory welfare bill and single mothers hit hardest. How do the abstainers feel this morning?" she said.
In addition to the £12 billion of cuts backed by MPs on Monday, the Treasury has predicted additional "sensible welfare reforms" can be expected.
Speaking in the House of Commons on Tuesday, Osborne conceded further spending cuts would incur "difficult choices." However, he hinted that the state's crisis-ridden social care system may receive more funding.
"This spending review is the next step in our plan to eliminate the deficit, run a surplus and ensure Britain lives within its means," Osborne said.
"We'll invest in our priorities like the NHS and national security. Elsewhere in government, departments will have to find significant savings through efficiencies and by devolving power, so people have a greater say over the issues that affect them and their communities. We'll deliver more with less."
In his emergency budget earlier this month, Osborne laid out £12 billion of welfare cuts and £5 billion worth of savings from changes to the tax system. He asserted these savings would offer half the cash needed to quash the deficit.
Some 3 million households across the UK will be £1,000 worse off each year following the emergency budget as slashed tax credits hit low-income earners hardest.
Speaking earlier this month, Institute of Fiscal Studies (IFS) director Paul Johnson said Osborne's emergency budget was characterized by a number of "eye-catching" changes to its predecessors. He noted the chancellor's so-called long term economic plan had mutated yet again.
The government's decision to freeze working-age benefits, local housing allowance and tax credits until 2020 marked the chancellor's biggest welfare cut. It is set to impact 13 million households, which will lose £260 each year on average.